5 tricks to make "indoor mini gardens" look amazing and fully embrace this creative container planting trend
From plant selection to pots and potting mediums, here's what our expert advises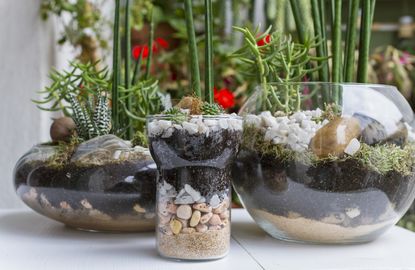 (Image credit: Getty / ondacaracola photography)
The Livingetc Newsletter
For style leaders and design lovers.
Thank you for signing up to LivingEtc. You will receive a verification email shortly.
There was a problem. Please refresh the page and try again.
Creating an indoor mini garden is a fun activity. These miniature gardens are also a great way to entertain little ones with a creative project. It's a hands-on endeavour that takes kids - and us - away from our screens. It also helps children learn about nature and care for it.
The options vary from growing cacti in diminutive dish deserts to tiny tropical terrariums or fairy gardens in shallow bowls. Whether you want to flex your green fingers or capture a child's imagination, this type of indoor garden can be anything you want, from kitsch to cool.
'A dish garden is simply a grouping of plants in a container that all require approximately the same growing conditions,' says Lisa Eldred Steinkopf, the houseplant guru and author of Houseplants.
'The newest craze is miniature or fairy gardens, and adding small accessories to your dish garden make it fun. Kids love making these, so it is a great way to interest children in plants.'
How can I make an indoor mini garden?
'Finding truly small houseplants can be challenging but not impossible,' continues Lisa. 'Because of the miniature fairy and gnome gardening craze, nurseries and garden centers are beginning to offer a large selection of plants appropriate for a mini garden.'
1. Choose small, slow-growing plants
As well as requiring similar growing conditions, your plants need to be diminutive in size to suit this style of container gardening. Some plants grow quicker than others. So if you'd like your mini garden to be able to stay in its container for a while, slow-growing plants, such as cacti or succulents are a good option.
'Choose plants that will fit your container for the greatest length of time,' says Lisa. 'Buying plants that have similar growing habits is important. Do not mix cacti and other succulents with ferns as the outcome will be bleak. You will either have a dried-out fern or a rotted cactus to accommodate the water requirements of each plant.
'Arid dish gardens containing cacti and succulents are actually the best way to put these plants together. They do not belong in a terrarium as the humidity is too high and they will rot.'
2. Select the container
If you've opted for cacti and succulents for this houseplant trend, a shallow bowl with a drainage hole and a drip tray is a good container for a dish garden.
Alternatively, for foliage plants, a glass terrarium or globe will make a hospitable home, as it will create its own humidity.
'Classic terrariums use glass panel "Wardian-style" enclosures and are planted with a variety of plants to mimic the look of full-size conservatories,' say Lisa. 'The number of glass containers available is mind-boggling.
'Choose a clear glass - even lightly tinted ones do not let enough light through. Clean and shine the container before planting, and be careful as you add soil and plants, so as not to get the container dirty.'
3. Buy a suitable potting medium
Once you know which plants you want in your indoor mini garden, and have chosen the container, you can select the best potting mix for containers to plant them in.
'A cacti mini garden will need a fast-draining potting medium, while ferns and other foliage houseplants will need a heavier water-retaining medium,' says Lisa. 'The most important factor is to have a drainage hole in whatever container you use for a dish garden.
'However, for most terrariums, a quality fast-draining houseplant soil will be sufficient. The size of your container and the size of your plants will determine the amount of soil required.
'Most often, a few inches of soil is all that is needed. Contrary to popular belief, pebbles aren't needed for drainage in the bottom of your container.'
4. Plant your plants
'Make sure there is enough room for the roots of the plants,' says Lisa. 'Spread the potting medium in the container, making areas that are lower and higher for added interest.
'Give your plants room for growth, so trimming can be kept to a minimum. After they are planted, they will need to be carefully watered.
'In a terrarium, don't let plants touch the side of the container, as the leaves will rot as humidity collects on the glass. Add only enough water to moisten the soil.
'A terrarium will need to be watched for a few weeks after planting. Getting the atmosphere correct is a little tricky, but when it is balanced you need only check it occasionally.'
5. Have fun with accessories
Once the plants are planted you can decorate your mini garden. The options vary wildly. A mini garden in a terrarium or glass orb will look good with rocks, stones or pebbles on the surface, or in layers below the soil, while in a dish garden you might want to have fun with figurines.
'The accoutrements available are endless,' says Lisa. 'They can be as simple as rocks or sticks from your own yard. Or more elaborate like tiny gardening tools, fairies, gnomes, deer or whatever you like.
'It's your creation, so it should be something that makes you happy. Many figurines can be found in hobby stores, garage sales or thrift stores.
'Plant some of these gardens with a child and watch their face light up as they create a small world filled with living plants.'
For style leaders and design lovers.
Jacky Parker is a London-based freelance journalist and content creator, specialising in interiors, travel and food. From buying guides and real home case studies to shopping and news pages, she produces a wide range of features for national magazines and SEO content for websites
A long-time contributor to Livingetc, as a member of the team, she regularly reports on the latest trends, speaking to experts and discovering the latest tips. Jacky has also written for other publications such as Homes and Gardens, Ideal Home, Red, Grand Designs, Sunday Times Style and AD, Country Homes and Interiors and ELLE Decoration.