How to plan a basement addition - the expert guide to an extension below the ground
If you know how to plan a basement addition then you can extend beneath the house into a whole world of its own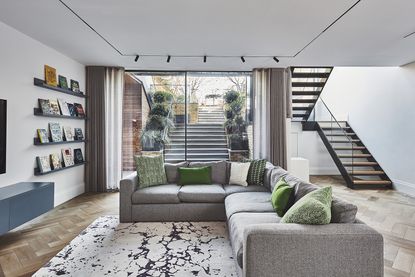 (Image credit: 82mm Photography)
The Livingetc Newsletter
For style leaders and design lovers.
Thank you for signing up to LivingEtc. You will receive a verification email shortly.
There was a problem. Please refresh the page and try again.
Finding out how to plan a basement addition is the logical next step for homeowners hoping to create more space to live. If you've exhausted the opportunities for adding space above ground, whether that be via a kitchen extension or loft conversion, a new basement offers a smart solution.
Basement ideas can be utlized if you already have a cellar, an unfinished basement, or don't have anything dug out down there at all. If you already have a cellar, one option is to extend outwards on two sides of that zone and dig down by another 1.6 feet or so to create space for a utility room, or something similar. If you want to dig out a new subterranean level, irrespective of whether you have an existing cellar, you'll be excavating from scratch.
Typically, a cellar occupies about 50 – 65 sq feet, while a new basement could offer in excess of 330 sq feet and provide space for a family room, a kitchen or an extra bedroom. However there are a number of aspects which need to be considered before going ahead.
How to plan a basement addition
1. Assess the cost vs the reward
Basement extensions are not cheap. We are currently working to figures of approximately £1800 per sq foot. 'There are a lot of variables that influence this cost - depth of the dig, ground conditions, level of fit out and so on,' says Daniel Adeshile from design studio Ade Architecture. 'It is a lot more costly to dig a basement than to extend elsewhere, so it's worth exploring options above ground first. On tight sites, often this isn't an option so we need to dig down to create the space desired. With this additional cost, you need to consider if this is good value. Will the cost of the works be reflected in the resale value of the property?'
2. Assess the suitability of the project
Homes can be rendered unsuitable for a basement for numerous reasons. 'This can be as a result of local planning policy placing restrictions on the creation or size of basements, or things happening below the ground nearby that would impact the development, such as proximity to mains sewers or underground tunnels,' Daniel says. 'Key details to check before you begin include your house's proximity to tube lines, storm drains and sewers.'
3. Instruct as geotechnical survey
There are various assessments to do before construction on a basement addition begins. 'The first is a geotechnical survey, which looks at the ground conditions around your house,' Daniel says. 'Next, you'll need a utility survey. Your architect will also need a measured survey of the house and surrounding area. The final assessment will be an asbestos survey, which will be organised by your contractor.'
4. Get permission - which isn't always necessary
Subterranean development is possible under Permitted Development (PD), meaning that you don't have to apply for planning permission. 'However, for your project to fall into this category, you can only build within the footprint of your house – you can't have anything that alters the street scene,' Daniel says. 'If you're introducing a new lightwell at the front, back or side of the house, you'll need to get full planning permission.'
To apply for planning permission, you'll need to submit a set of existing and proposed drawings. 'When it comes to hiring an architect to put your design proposal together, I'd recommend using a registered professional,' Daniel says. 'Going through the pre-planning process with your local authority is the best way to gauge whether your application is going to be favourably received.'
5. Consider the drainage
As with all small addition ideas, waterproofing and drainage are the key technical aspects to get right when wondering how to plan a basement addition. 'Installing a large enough sump pump is vital,' Daniel says. 'If you get a lot of rain and your sump pump isn't big enough, you'll have a flooded basement. Fire safety is also key. One way to meet Building Regulations is to incorporate protected corridors to exit the lower ground floor in the event of a fire. If the layout is open plan, installing a sprinkler system is an alternative. We also often encourage clients to fit a mechanical ventilation and heat recovery (MVHR) system to ensure a fresh supply of air.'
6. Plan for natural light
It's important to flood the space with natural light – lightwells are often the go-to solution. Y'ou'll also want to ensure good floor to ceiling heights,' Daniel says. 'We encourage our clients to establish a height equivalent to what you'd find on the ground floor, so usually between 9 to 10 feet. Another aspect to look at is the lower ground floor's connectivity to the rest of the house, as well as the garden. Incorporating a void from the ground floor to the basement, so sunshine can filter through, works well.'
For style leaders and design lovers.
After starting my journalism career at a luxury property magazine in Bangkok, I re-located to London where I started out as a sub-editor and features writer. I later became the features editor of a popular self-build and renovation magazine, where I delved into the world of structural systems, eco tech and smart homes. I went freelance in 2017 to pursue my dream of becoming a yoga teacher, but I still write for numerous titles in the homes and interiors sector, including Grand Designs, Ideal Home, Livingetc, Homebuilding & Renovating and Build It. I write a range of articles, from design-focused features to real life case studies.