6 simple secrets to keeping your lawn looking lush in hot, dry weather - according to a top expert
See your lawn through the 'brown patch' phase with expert tips on how to grow grass in hot, dry weather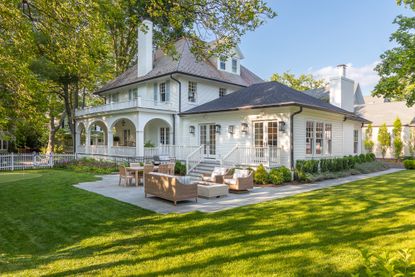 (Image credit: Joseph Richardson of Richardson & Associates Landscape Architecture)
The Livingetc Newsletter
For style leaders and design lovers.
Thank you for signing up to LivingEtc. You will receive a verification email shortly.
There was a problem. Please refresh the page and try again.
When the temperatures start soaring, the first thing we often worry about in the garden is the lawn. But learning how to grow grass in hot, dry weather will help you successfully navigate a drought.
As these best plants for a dry garden will prove, you can have a bountiful bloom in a hot garden, but there are some top tips for growing grass in dry weather that can help steer you through particularly dry times.
'Grass is typically one of the most resilient plant species in our garden but will still face challenges and significant stress from extended periods of hot and dry conditions during the summer months,' says Andrew Gaumond, horticulturist and editorial director at Petal Republic.
He continues: 'Most types of grass do an incredible job of naturally counteracting the impacts of heat exposure through transpiration.
'However, during extended periods of drought, the plant is unable to source the necessary moisture reserves from the soil base through its roots, which leads to the browning of its leaf tips and a rapid slowdown in new growth.
'With a bit of planning and due care throughout the year, you can still enjoy a healthy lawn, even during particularly hot periods.'
With a BSc in Plant Sciences, horticultural expert Andrew is the editorial director of Petal Republic. His love for the natural world has led him to train professionally in the world of plants and floristry. He's a passionate content creator and has written hundreds of articles where he shares his experiences from the world of flowers, gardening, and houseplants.
How to grow grass in hot, dry weather
Follow Andrew's step-by-step guide to a healthy lawn in hot weather below:
1. Select a heat-tolerant grass variety
Firstly, consider the grass seed you are sowing if you live in an arid environment.
Andrew Gaumond says: 'To set your lawn up for the best chance of success in hot, dry conditions, start by selecting a grass variety that can tolerate arid and drought-like conditions.
'My two favorite types of grass for these conditions are Bermuda and Buffalo (both are excellent options for water-conscious gardeners).'
2. Prep the soil base
It's important to make sure the 'foundations' are laid correctly to encourage healthy lawn growth. As with any home project, this comes down to the prep.
'Ensure you're prepping the soil base before laying seed or turf by incorporating compost and moisture-retaining organic matter into the topsoil,' advises Andrew. 'It's also prudent to clear out any weeds that will compete for nutrients and available water resources.'
3. Use a longer blade setting when cutting
'When cutting the grass, opt for a mid to high blade setting (no less than 2 inches) and avoid the temptation to clear grass cuttings, as these help to create an additional protective layer to retain moisture,' explains Andrew.
'Longer grass blades will also root more deeply into the soil, giving them greater strength and resistance to challenging conditions.'
4. Don't over-fertilize
Fertilization will only increase the need for extra watering, which can be more difficult in a prolonged dry period or drought.
'As a general rule, don't over-fertilize during drought conditions, as this will only put more significant water requirements on the lawn,' says Andrew.
5. Water in the morning or evening
'The best time of day to water a lawn during hot, dry weather is early in the morning or evening time as the sun is setting,' advises Andrew.
'Temperatures tend to be at their coolest at these times, and the grass is protected from bright, direct sunlight, thus minimizing moisture evaporation.'
He continues: 'Ideally, lawns would be watered every two or three days during extended periods of hot weather, but given that water is a precious resource, when thinking about how to keep your garden hydrated, it's more prudent and environmentally conscious to consider other lawn maintenance techniques (such as allowing your lawn to grow longer in summer, capturing rainwater where possible, selecting drought-tolerant grass types, and mulching).'
Andrew adds: 'When you do water, utilize a nozzled hose or sprinkler system to accurately cover the lawn area and minimize water consumption.
'Flow timers can be helpful here to precisely calculate how much water you need to be applying. As a general rule, most lawns require at least 1.5 inches of water a week.'
This neat flow timer on Amazon is currently on sale.
6. Reseed brown patchy spots
When those pesky brown patches appear, don't panic - you can get back to a quick verdant, healthy green lawn.
'For any patchy spots, you can liberally reseed with your chosen grass variety,' says Andrew.
He adds: 'It's also prudent to reduce overall foot traffic on lawns during periods of excessively hot weather.'
For style leaders and design lovers.
Ruth Doherty is a lifestyle journalist based in London. An experienced freelance digital writer and editor, she is known for covering everything from travel and interiors to fashion and beauty. She regularly contributes to Livingetc, Ideal Home and Homes & Gardens, as well as titles like Prima and Red. Outside of work, her biggest loves are endless cups of tea, almond croissants, shopping for clothes she doesn't need, and booking holidays she does.