Green roof systems - the style and decor guide to creating the perfect sedum roof
Green roof systems help bring life to your exterior, looking beautiful and being good for the environment, too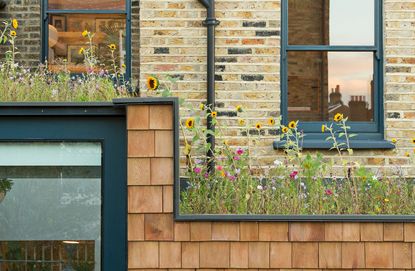 (Image credit: Fraher and Findlay)
Green roof systems are hugely growing in popularity. They look beautiful, adding the softness and calm of a meadow to the exterior of an urban home, and they also help to address the issues of climate change. By creating habitats suitable for wildlife that might otherwise struggle in cities, they help to perpetuate natural cycles. And the benefits don't end there - acoustics and insulation of the home beneath can be greatly improved, too.
'Green roofs retain rainwater in the substrate and their plants,' says Mark Noden, founder of the Green Roof Company, showing why they are more and more beloved by anyone interested in sustainable living. 'This water is then used by the vegetation or evaporates back into the atmosphere, which means the localized air quality is improved as the vegetation assists in filtering out both gaseous pollutants and dust particles, effectively purifying the air.'
Also known as a sedum roof, these systems are relatively inexpensive to install and maintain, and can make a world of difference to your environment.

What is a green roof?
Green roofs create a natural look and help buildings to blend into the surrounding area. They can also help with planning consent as biodiversity roofs help to meet local authority policies towards a sustainable environment. They can increase property values by covering up ugly flat roofs and work well on outbuildings like garden offices.
They provide a calm, green space and instil a sense of well-being.
Importantly, green roofs provide a natural habitat for flora and fauna and aid biodiversity by encouraging a wider spread of species in the area. They also retain wildlife by providing corridors to support the natural colonization of locally arising plants, birds and insects, boosting the resilience of species in the area.
Green roofs have excellent acoustic qualities and help noise reduction for both external sound (up to 3dB) and internal noise up to 8dB), and can be one of the ways to save energy as they have insulating properties for the home below.

What are the environmental benefits of a green roof?
The enhanced thermal performance provided by a green roof gives a more balanced temperature within the building. This reduces heating costs in the winter and air conditioning costs in the summer, which can lower your energy bills and also reduces the carbon footprint through lowering the building's running costs - useful if you've spent time considering what type of heating to have from an eco perspective.
On a new-build, or on commercial buildings, there can be a reduction in construction costs as there is no requirement for a standard roof and all that entails. Green roofs also work very successfully with solar or photovaltic panels as the vegetation provides ballast for the solar panel mountings and allows the plants to grow beneath. It is said that photovoltaic units are up to 5% more efficient when used on a green roof.
There is a reduction in lifecycle costs as the green roof provides protection from the damaging effects of the weather by reducing stormwater runoff. 'A specially engineered outlet on the roof restricts storm water runoff to a predesigned flow rate to stop too much water leaving the site, and because the water is discharged at a controlled rate, it helps to avoid localized flooding,' says Mark Noden, founder of the Green Roof Company. Additionally, the natural evaporation of water from the plants and soil helps to cool and humidify the air, lowering the ambient temperature and reducing the 'heat island effect.'

What is the heat island effect?
The urban heat island effect is the difference in temperature between urban areas – towns and cities - and the surrounding countryside, and is a result of large building surfaces reflecting and radiating the sun, which will not dissipate fully overnight. The substrate of a green roof will absorb some of this heat and lower the temperature.

The green roof structures themselves are generally made up of recycled or waste materials. Like eco flooring, the origination of sedum roofs can sometimes be surprising. Some are made from recycled shredded tires and bound by polyurethane or they can be made from a bonded material made from recycled Polyester clothing and fabric. Substrates can be made from recycled crushed brick and composted recycled organic material. The foil layer is made from recycled polyethylene granulate.
What are the different types of green roof?
1. Pre-Grown Vegetation Blankets or Mats
Pre-Grown Vegetation mats or blankets give instant coverage of the roof. A blanket with a broad mix of between 12-14 mature Sedum species is grown on an all-in-one integrated 100% natural biodegradable coir blanket with a 20mm layer of extensive substrate on top. It is grown for a year prior to installation and is designed to use directly over a waterproofing medium. Sedum blankets are suitable for new buildings or on redevelopment projects, and can be retrofitted on both pitched and flat roofs. The plants are selected to suit your climate.
Wildflower blanket – instead of Sedum this is made up of a blend of British wildflowers, herbs and grasses, that are included on a local Biodiversity Action Plan (BAP) list.
2. Wildflower blanket
Instead of Sedum, wildflower blankets are made up of a blend of wildflowers, herbs and grasses, that are included on a local Biodiversity Action Plan (BAP) list.
3. Plug Planted Systems
Plug planted systems uses a greater choice of plant species for green roofs and gives you the opportunity to plan the layout. The individual immature plants, or plugs, are planted in the substrate which can then grow on to give good coverage.
4. Seedling roofs
An economical and practical method for larger roofs, seedling green roofs are designed for harsh conditions. Plant establishment can take 18 – 24 months depending on the time of year sowing takes place and the weather conditions during the period of establishment.
Are green roofs heavy?
Most companies use lightweight substrates combined with specially developed water storage and drainage components which means a modern green roof is not heavy, and in fact is only a fraction of the weight of a standard roof. However, the saturated weight of the system should be determined at an early stage before installation.

What is bad about green roofs?
One of the downsides of green roofs is looking after it - it takes more regular care than a regular roof would. 'The maintenance of a green roof can be tricky as safely working at height needs careful planning,' says Paul Cook, Curator of RHS Garden Harlow Carr.
How expensive are green roofs?
The main expense when it comes to green roofs is in constructing the roof and ensuring the roof is able to carry the weight of the plants and substrate, and that it is watertight. On average, for a green roof you can expect to pay around $10-20/£8-15 per square foot.
Are green roofs a good idea?
Green roofs are a great idea! Not only do they increase biodiversity and help cut down your heating costs, but they look fantastic, too. 'As soon as the roof is installed it creates a habitat for wildlife, slows rainwater runoff, cools the environment and looks attractive,' says Paul Cook.
What type of plants should you use for a green roof?
The best type of plants to use for a green roof are drought-tolerant plants that can survive periods of water and heat stress and bounce back. 'There is more choice than just sedum – lots of herbs and alpine plants are adapted to these conditions as well as native plants such as bird's foot trefoil,' says Paul Cook.
Why is sedum so popular?
Sedum is popular as once installed it needs little maintenance and is one of the most robust roof plants, surviving dry periods without losing its fresh look.

Alison Davidson is well-respected British interiors journalist, who has been the Homes Editor of Woman and Home magazine, and the Interiors Editor for House Beautiful. She regularly contributes to Livingetc, and many other titles, and often writes about kitchens, extensions, and decor ideas. She is the go-to for information about green energy, sustainable home improvement and eco design ideas.