Art experts at Canopy Collections share their secrets for how to choose art for your home
New online platform Canopy Collections release seasonal launches that makes collecting art easier - we ask for their tips on buying art for our homes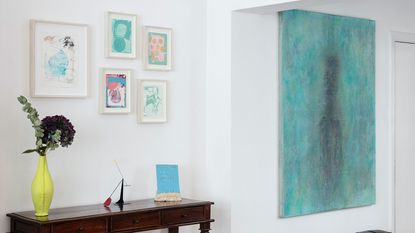 (Image credit: Canopy Collections | Ollie Hammick)
There's been an increase in the demand for accessible art as people aspire to add personality to their interiors and without breaking the bank. Having recently spent more time indoors, many have noticed areas of the home that could benefit from a creative touch.
See our hanging art in your home gallery for more ideas
In the past year, the vast majority of art sales have taken place online, with offerings from virtual fairs, online art galleries and social media. Therefore, the launch of online art platform Canopy Collections feels like a well-timed one.
During the first lockdown, co-owners Louise Chignac and Cécile Ganansia noticed a growth in interest for buying affordable art so decided to create an accessible online destination for just that - and so Canopy Collections was born.
Canopy Collections co-owners, Louise Chignac and Cécile Ganansia met in 2014 when working with the Cranford Collection and went on to work on various art-related projects together.
It was in early 2020, after the Covid-19 pandemic hit, that they noticed a gap in the market 'people around us were looking to refine their interiors, to 'dress' their walls and many of them started to ask us advice on where to buy contemporary artworks that were affordable.' says Louise, co-owner of Canopy Collections.
Canopy Collections mission is to offer a new approach to discovering contemporary art, 'We select and sell artworks by international living artists through seasonal collections.' explains Louise.
She adds 'We aim to make the process of buying art as easy and comfortable as possible, and we can be completely transparent about prices, which is not often the case in the art world.'
When asked about how they select new artists, Louise tells us keeping an eye out for new talent is all part of the job 'We launched Canopy Collections 6 months ago with 11 artists and now work with over 20. We select the artists together, and our choices are based first and foremost on the quality of their work and their commitment, at a professional level, to their artistic practice.'
Louise explains where Canopy Collections seeks out the worlds most up-and-coming artists 'Most of the artists we work with studied in some of the best art schools and have exhibited in estimated galleries and institutions.'
Louise Chignac's 5 tips on how to use art in your home
Canopy Collections co-owner, Louise has an academic background in art history and curating. She started her career 10 years ago working with public institutions in Paris and then Copenhagen.
As someone who knows a thing or two about art, we asked Louise for some expert tips on choosing art for our home.
1. BUY WHAT YOU LIKE
Louise advises that although art can be an investment, it's first and foremost a commitment 'When buying art for our everyday interiors, it is often best not to listen to trends - by definition, they rarely last - and to be faithful to our own taste'
2. GO FOR DIFFERENT MEDIA
There are many types of art to consider when trying to find the best piece to suit you and your home. Louise comments that 'Some people might choose a statement piece straight away, such as a large painting, when other might prefer to start with a small work on paper', adding 'It's always rewarding to try different media and it will make your home even more personal and lively.'
3. DON'T BE PUT OFF BY ASYMMETRY
Louise says not to be afraid of breaking your own rulebook, suggesting 'When curating interiors, we are often drawn to symmetrical arrangements, which have a tendency to feel monotonous over time, whereas asymmetry adds visual interest.' She then adds 'Resist the urge to hang similar artworks on each side of your fireplace, or to try and match the colour palette of your lounge.'
4. GET THE VOLUMES RIGHT
Measure is the mantra at Canopy Collections. It may sound obvious but Louise reminds us why it's important 'to make sure you get the dimensions right, measure your walls properly and check the size of the work you intend to buy. When we really like a work, often assume it is the size we want it to be - often, it is not.'
5. REMEMBER HEIGHT IS KEY
Consistency is key for where to hang your art, explains Louise 'Follow the same method: always measure the height from the floor to the centre of the work as you want to hang. Whether it is 150cm or 180cm, try to apply the same height to all future works.'
Louise points out that eventually 'you might run out of wall space: that's when you'll realise you've become a collector'
Finally, we asked Canopy Collections' Louise and Cécile what their biggest bugbears are with art and how it's installed.
'Entering a space where artworks are hung at different levels. One often underestimates the importance of a good installation, even at home.' comments Louise.
See: Inside An Art-Filled Home With Enviable Outdoor Terraces
Cécile adds 'The lack of diversity – entering a room where all artworks look the same, this feeling of 'deja-vu' as if you're looking at the same piece over and over again. It's the most beautiful part of the journey for a new art buyer: to learn how to mix different worlds to create our very own.'
Canopy Collections selects and sell artworks by international living artists through seasonal collections - canopy-collections.com
The Livingetc newsletter is your shortcut to the now and the next in home design. Subscribe today to receive a stunning free 200-page book of the best homes from around the world.
Jo is a News & Shopping Editor across Homes & Gardens and Livingetc magazine. Before joining Future Plc, she worked as an interior stylist and set designer, specialising in editorial and commercial photo shoots as well as installations, exhibitions and events. Her background within this field means she has a particular interest in the creative ways to make a house a home, as well as hunting down the best places to source beautiful things.