4 bedroom paint colors that are going out of style, and what to choose instead
Looking to redecorate your bedroom? Steer clear of these paint colors for a more timeless scheme, warn designers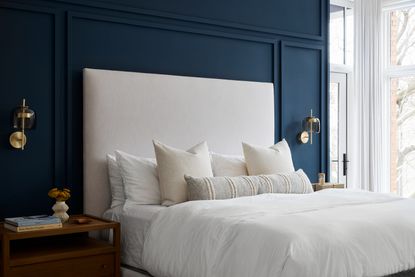 (Image credit: Dustin Halleck. Design: Devon Grace Interiors)
If you're planning to do a spot of bedroom redecorating, you might want to think twice before committing to that paint color you've pinned time and time again over on Pinterest.
Picking the wrong shade can really impact the atmosphere and energy of a room, not to mention make your whole space feel behind the times. Paint color trends come and go, but these once-trending shades are definitely out as we enter 2024.
We've spoken to the designers and paint experts to find out the shades they're happy to see the back of, and what colors are perfect for a modern bedroom.
1. Instead of midnight blue, go for a calmer shade
Dark blue has been a go-to for moody, elevated bedrooms for some time. Royal, elegant, and refined, the color possesses the power to transform any space. However, we're seeing designers go off the darker shade, favoring pastel blues and more muted tones that feel relaxing and less overwhelming instead.
The problem with dark blue paint like midnight, navy or even indigo is that against any white crown molding, it can feel like a huge contrast, and it has the feel of a more traditional room rather than something that feels cool and modern.
Instead of a darker navy, go for something with a more powdery feel like Benjamin Moore's color of the year 2024, Blue Nova (above). The shade is smokey, blending more violet tones that feel moody and mysterious.
'Blue Nova 825 is an intriguing hue because it falls in the blue color family, but it has a hint of red in its makeup that creates an appealing violet cast,' says Helen Shaw of Benjamin Moore.'This touch of warmth creates an alluring and comforting atmosphere all at once, making it an ideal color choice for the bedroom.
'To fully immerse yourself in this atmosphere paint the walls, trim, and bedroom cabinetry in this shade then add a vibrant terracotta to provide high contrast, energizing the overall look of the room.'
2. Instead of bright whites, go for off-whites
Long gone are the days when a bright, stark, and clinical pure white is the go-to bedroom paint choice. It's cold, lacks any depth, and can just make a room feel uninspiring. 'I used to think that a bright bedroom, whether a white tone or similar was the best way to wake-up,' says Claire Hung, founder of New York-based design firm, Claire Hung Desgin, 'but I'm finding that it's of great value to design a bedroom to be more calming and low energy using darker colors. Calming and low-energy wall color doesn't mean you won't feel refreshed upon waking, to me it actually supports the slow transition we all need or enjoy experiencing upon waking.'
Instead of bright white, go for off-white - a shade with undertones of red will warm a space up, while off-white with undercurrents of green gives an unsurpassed softness, creating a chalky feel to your walls.
'While we loved using white in bedrooms, too stark or bright a white is not ideal for optimizing restfulness,' says Heather Hilliard of San Francisco-based Heather Hilliard Design.
'If you're going to paint the whole room, going with a warm white, or off-white is favorable. I like using tones of grey with a white ceiling and accents, to give the room a slightly moodier feel that still looks fresh and bright in the daytime.'
'Stark white is out,' agrees Ami McKay, founder and principal of PURE Design. For Ami, it's all about how a darker tone of white can create shadow, depth and texture. 'We are bringing back warmth and earthiness so look for warmer whites that have a tint of lime putty tones that mimic 19th century whitewashes. Texture and patterns are coming back for consideration so think about a limewash on your bedroom walls or a beautiful wallpaper.'
3. Instead of red, go for burgundy or eggplant
The red accent wall also had its moment in the spotlight. The trend made red feel cool and bold, but over the years, it has not aged well. Now, a red room can feel overwhelming and too powerful for a bedroom. Interior design is evolving so quickly and homeowners are much more aware of how color impacts mood, atmosphere, and energy. For this reason, red is a paint color to ditch in the bedroom.
'Another color that's out (and has been for a while) is saturated reds,' says Amy Youngblood, founder and lead designer, Amy Youngblood Interiors. 'Highly saturated colors, like red and cobalt blue, lend themselves to a very strong and energetic feel, which isn't something you typically want in a bedroom. Your bedroom paint should have a soothing feel, especially as you look to relax and fall asleep.'
'True reds tend to be too demanding for most bedrooms due to their energizing characteristics,' says color consultant at Farrow & Ball, Patrick O'Donnell. 'Instead of using an energizing bright red for a bedroom, use a reddish brown like Etruscan Red which can look elegant and dramatic in a bedroom, and deliver a super cozy warm aesthetic.'

A burgundy or dark purple bedroom feels a lot more on-trend. It is a hybrid of that once-popular red, mixed with brown for a more sumptuous feel. 'Burgundy is one of the best,' says Russel Loughlan of interior design studio, The House on Dolphin Street. 'It's often overlooked and yet a very versatile color that matches with so many colors. It has strength and boldness without being loud like most reds.' There are plenty of colors that go with purple or burgundy too, just look to the color wheel for inspiration.
4. Instead of dark grey, go for mushroom
Greys, particularly dark greys, used to be the paint color to use if you wanted to create a cocooning space. It felt modern and contemporary, but now, it's so clear that grey lacks warmth, so designers are instead leaning toward greys that have brown undertones, or even going for pure browns. Earthy paint colors are trending and look to continue to do so as we approach the new year.
'Although neutrals will always be a classic, darker greys are beginning to go out of style along with stark white,' says Amy. 'If you're a neutral person like myself, stick with what we call a 'greige' type of color that has both light gray and beige undertones.'
Mushroom grey is a color I'm currently obsessed with. It's dark and moody, but has such warmth emanating from the underlying brown. It's the perfect choice for a snug room, but a bedroom is another great option, helping you feel cocooned and relaxed as you wind down for sleep.
3 on-trend bedroom paint colors to try out
The Livingetc newsletter is your shortcut to the now and the next in home design. Subscribe today to receive a stunning free 200-page book of the best homes from around the world.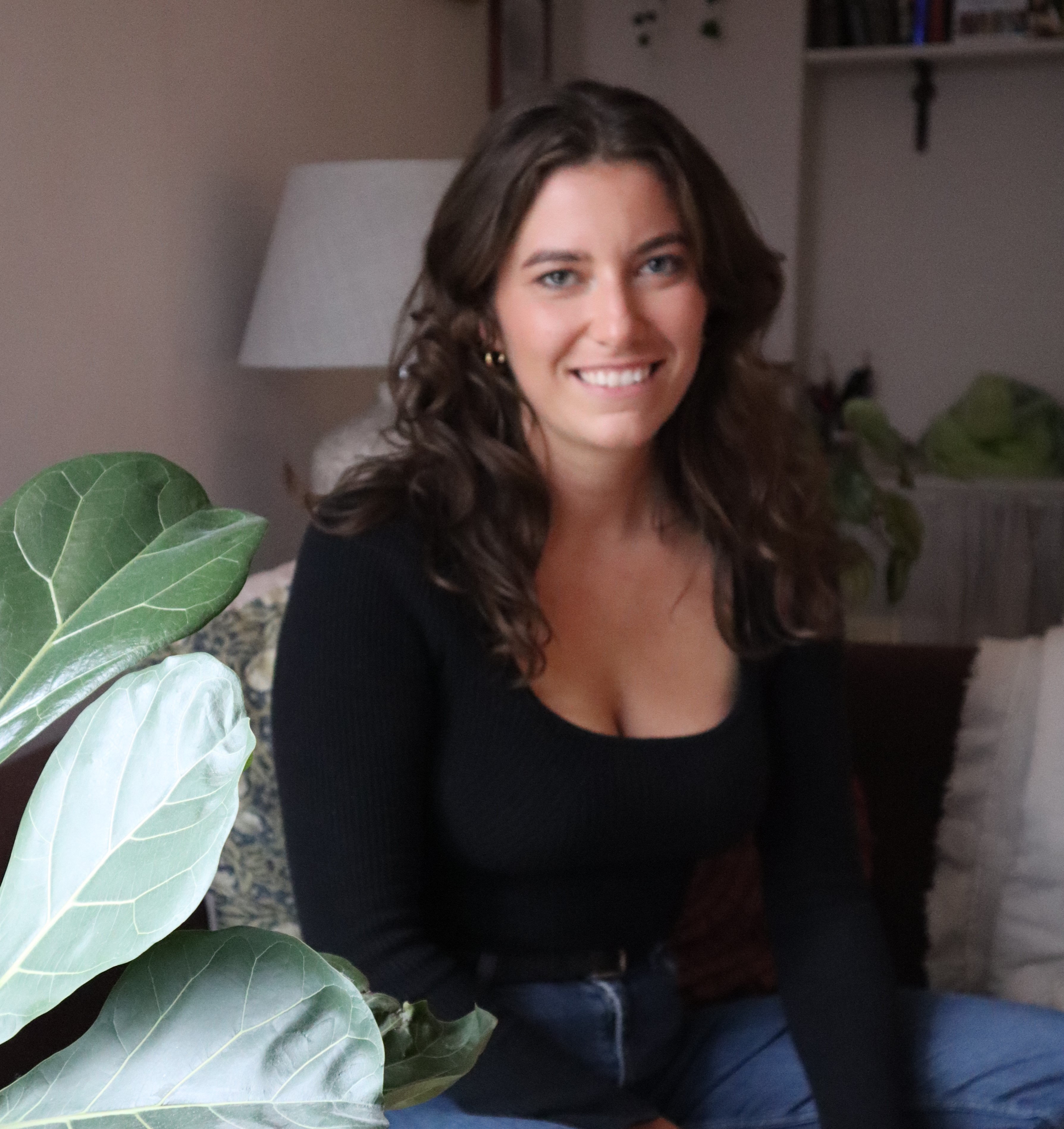 Livingetc content editor and design expert
Oonagh is a content editor at Livingetc.com and an expert at spotting the interior trends that are making waves in the design world. Writing a mix of everything and everything from home tours to news, long-form features to design idea pieces on the website, as well as frequently featured in the monthly print magazine, she's the go-to for design advice in the home. Previously, she worked on a London property title, producing long-read interiors features, style pages and conducting interviews with a range of famous faces from the UK interiors scene, from Kit Kemp to Robert Kime. In doing so, she has developed a keen interest in London's historical architecture and the city's distinct tastemakers paving the way in the world of interiors.