Four easy coffee trends to try—just in time for National Coffee Day
You can easily try the latest coffee trends right from home and on-the-go, no barista experience required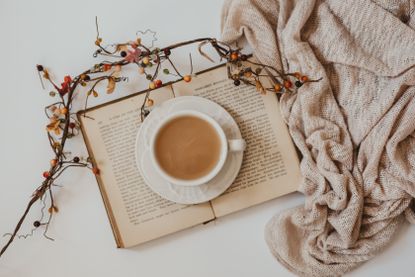 (Image credit: Unsplash/Sixteen Miles Out)
The Livingetc Newsletter
For style leaders and design lovers.
Thank you for signing up to LivingEtc. You will receive a verification email shortly.
There was a problem. Please refresh the page and try again.
Coffee is coffee, we've been drinking it for hundreds of years. But like how design never stays the same, how we drink coffee is always evolving. The last year has truly shaped coffee trends for the better, as we've noticed an emphasis on healthier, less sugar-laden beverages, sustainable practices, and convenience.
We've identified a few ways to spice up your morning coffee routine that can be implemented at home and on the go. Some you may already be on board with, while others could be completely new to you.
"We don't expect the communal coffee pot to cut it anymore," said Illy's master barista Giorgio Milos of the overarching trend of single-serve options and the customizations that make them tailored made to your preferences. "Instead, we expect people to bring the quality coffee experience they've grown to love at home into the office and create a second personal coffee station of their favorite machines, coffees, and products."
So, start up your best coffee makers and get those coffee mugs ready because these are all coffee trends you can take part in at home.
1. Non-dairy Alternatives
When it comes to lattes and cappuccinos, milk for decades reigned supreme as the ingredients… and known to froth better. As non-dairy alternatives have increased in popularity, have they reached their acme? They're not just popular among our lactose-intolerant friends, but for those looking for more eco-friendly and sustainable ways to live. While we've been long aware of the popularity of almond, soy, coconut milk, and current milk-darling, oat milk, the "what's next" in milk mixology is here. First, pistachio milk brings another nut into the mix, while Barley milk (made from upcycled barley) from Take Two is ready to make a splash.
"We launched Take Two to help solve the billions of pounds of spent grain going to waste each year," explained Take Two Co-Founder and CEO Jerek Theo Lovey. "Almost 1/3rd of our food supply is wasted, which is one of the major contributors to the climate crisis. By drinking a barleymilk latte, people are shrinking landfills, conserving land and water, and reducing global emissions. It's remarkable to think of the collective impact that's possible just by swapping milks."
Try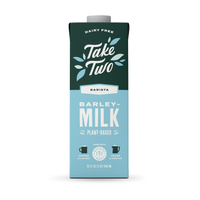 Take Two Barleymilk Barista | $29.99 for a pack of 6 at Amazon | Save 20% off with code CoffeeDay20 through Oct. 2
Ready to be at the forefront of non-dairy milk? Enter, Barleymilk, a smooth and balanced beverage perfect for coffee, tea, cereal, and so much more that embraces sustainability and adopting upcycling to reduce food waste. The newly launched Barista mix from Take Two can be used as a creamer or steamed and frothed to velvety perfection when used in coffee and lattes. It's packed with three grams of complete plant protein per serving and is an excellent source of calcium and MCTs (medium-chain triglycerides). On the sustainability front, one carton saves over 1/3 lb of spent grain from going to waste and conserves over 35 gallons of water.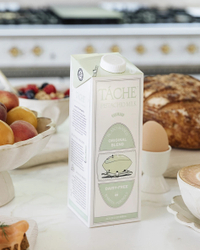 Táche Pistachio Milk Original Blend | $48 for 6 cartons at Táche
With flavor notes described as a little nutty, and a little sweet, you may start to find Pistachio milk being offered alongside other non-dairy options at your local café, and eventually, the supermarket.
Compared to oat milk, pistachio milk has significantly fewer calories, carbs, and sugar than most oat milk options and other non-dairy milk. It's also engineered to froth wonderfully for lattes and cappuccinos with a rich and creamy consistency. Unlike oat milk, Tache is made without any added oils, and when compared to almond milk, pistachio milk requires less water during production, making it an even more eco-friendly choice.
2. Healthy coffee
Coffee's benefits are about to extend a lot further than simply caffeine. Today's best blends are all about adaptogens, with ingredients not typically associated with coffee: think turmeric, mushrooms, ashwagandha, ginseng, .etc
"Coffee enriched with adaptogens is seemingly the new secret superfood trend for healthy living," said Hannah Mendoza, the founder of Clevr. "It allows us to incorporate functional nutrition in our lives through something we consume daily, like our cup of coffee or morning latte. Essentially, adaptogens work to fight off both emotional and physical stress that can lead to anxiety and inflammation down the line."
We've seen it in a number of ways, from ready-to-drink cans to easy powdery mixes, or as a tincture to your coffee.
Try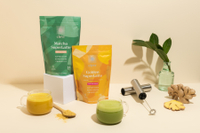 Clevr SuperLatte Starter Kit | $69 at Clevr
Meghan Markle and Oprah-approved, we knew we were in for a treat when Clevr came on our radar, with their signature product, the SuperLatte with 1000mg of adaptations. It arrives in powder form, and then you simply add water. For those who like to stick to the basics, there is Clevr's Coffee SuperLatte, which is a combination of organic Colombian arabica coffee, blended with oat milk and coconut cream, then powered with adaptogens including Ashwagandha for stress reduction, Reishi for immunity, and Lion's Mane mushrooms for brain health and probiotics for gut health. And of course, a healthy dose of caffeine for energy, without the jitters.
If you're feeling more adventurous, look into the anti-inflammatory benefits of the Golden blend with turmeric, Chai for grounded energy or Matcha for improved focus. It feels impossible to choose, right? The Starter Kit lets you pick two blends to try, and includes a frothing whisk.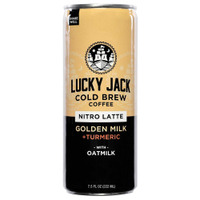 Lucky Jack Cold Brew Coffee, Nitro Latte Golden Milk + Turmeric with Oat Milk | $29.99 for 12 cans at Amazon
Combining all the trends of ready-to-drink, oat milk, and turmeric, we have the Nitro Cold Brew Latte from Lucky Jack. The latte incorporates smooth oat milk, nitro and cinnamon, and turmeric flavor. Just half a can made our day feel more awake, happier, without the caffeine crash of normal black coffee... And they're organic, gluten-free, and nut-free.
3. Coffee Subscriptions
It's 2021, if you can order sofas online, you can definitely manage a coffee subscription, and expand your coffee drinking habits beyond the grocery store selection ( although, those are pretty good too). Throughout the pandemic, the demand for coffee delivered swelled and remained steady. "I think since the pandemic more and more people are starting to make coffee at home," said Cary Wong, a member of Partners Coffee's education team. "With so many companies making great tools to brew coffee at home, I think we'll see more home brewing equipment trending as well as many roasters offering subscription services.
Not only does subscribe to a coffee subscription expand your options to coffees and offer a constant, reliable stream of coffee at intervals consistent with your consumption, but it can also introduce you to unique options that you could only find by being a member, as well as a new favorite blend.
Try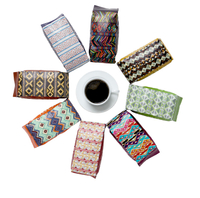 Atlas Coffee Club | Subscriptions from $14 a month
Get your first bag of coffee FREE and only pay shipping with code "COFFEEDAY2021 through Oct. 4th
While coffee tourism is on the rise, unlock any geographic boundaries with a subscription to Atlas Coffee Club. Each month subscribers are sent a new single-origin, specialty coffee from a different country every time alongside a postcard from a new country and tasting notes & brewing tips. Each batch is roasted made to order, so you can be sure you'll get the freshest beans possible. Atlas Coffee works with a network of small farmers with beans that aren't available anywhere else, and when they run out, they're gone until the next harvest rolls in. This month, transport yourself to the lush regions of Guatemala via coffee.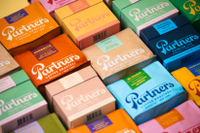 Partners Coffee | Subscriptions starting at $15.50 a month
The Brooklyn-based small-batch specialty coffee roaster offers a flexible subscription program that lets you choose your frequency (weekly, bi-weekly, or monthly) and the option for freshly ground coffee matched to your favorite preparation method, like drip, pour over, cold brew, espresso, and more. You can manage the subscription via text too for added convenience. Need help deciding which blend to try first? Their three-question coffee quiz matches you to your perfect blend.
Instant coffee and single-cup alternatives
Did it start with Dalgona coffee going viral on TikTok last year or even an uptick in an interest in coffee jelly? Perhaps! That, and continued interest in convenience and sustainable single-serve coffee. Instant coffee has since gone luxe, with premium coffee brands buying into methods that are fast, convenient for individuals, and portable for travel, without sacrificing the flavors you'd find from brewing with your favorite machine.
Beyond the traditional use of instant coffee as a quick caffeine fix illy's Master Barista Giorgio Milos brings about some recipe inspiration "Instant coffee is versatile not only for beverages, but also as an ingredient to take savory or sweet dishes to new heights. Try adding instant coffee to a favorite marinade during the heating phase. The coffee caramelizes and adds a subtle bittersweet dimension. You can also use it as a spice rub by combining instant coffee with salt and paprika."
However Milos' personal favorite pairing? Desserts. "In traditional tiramisu, to enhance the flavors of a rich chocolate cake, or to use in creating an infused coffee cream mouse atop a sweeter cake, like banana and paired with a caramel toffee."
Try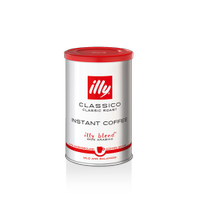 Illy Ground Classico Instant Coffee | $9 at Illy
Illy had caught on to the customer who wants the premium offerings of the Italian coffee house but the ease of requiring minimal equipment. The 100% Arabica beans medium Classico blend is rich and balanced with notes of caramel, with reviewers referring to it as "exceptionally smooth." Once roasted and ground, a unique freeze concentration process is use to preserve the flavors. Next, micro ground coffee is added to further enhance the taste before it is instant freeze dried and packaged.The 95g canister can make about 25 cups of coffee.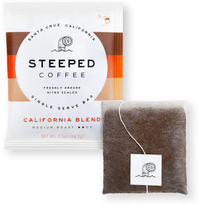 Steeped Single Serve Coffee Packets | $14.95 at Amazon
Upon first opening a Steeped coffee packet, you'll immediately think back to the experience of drinking tea. Just add water, dunk it a little for a light crema, and steep. The gourmet ethically sourced coffee grounds, available in a number of roasts, are nitro-sealed to remove oxygen and keep freshly ground beans fresh. Each packet is pre-portioned with consistent SCA recommended water-to-coffee ratios. Once you're finished, the packaging is compostable. We also love how easy it is to take a few packets on the go, so you're never far from a coffee kick.
For style leaders and design lovers.
Jaclyn is an eCommerce editor at Future Home Interest, and scouts out the best of the best for buying guides to help you fill your home with housewares you will love. She joined the team in January 2021. She has previously worked with sites like Apartment Therapy, The Kitchn, The Spruce, The Spruce Eats, and MyDomaine, but got her start in trade magazines, which fueled her excitement for innovation in the home category, seeing the newest launches, and interior design.