Best mattress topper: 6 luxe topper options to upgrade your sleep comfort
Find the best mattress topper to help you sleep soundly. Our shortlist has been selected with everyone in mind, with picks for any material option and sleep position
Included in this guide:
1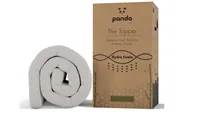 Panda
The Topper
2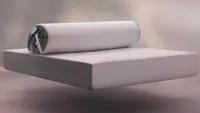 Simba
Hybrid Mattress topper
3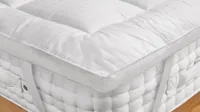 Soak
& Sleep Soft as Down with Silk Topper
4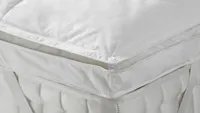 John
Lewis & Partners Natural Duck Feather and Down Topper
5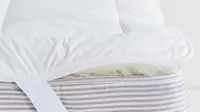 The
White Company Luxury Reversible Topper
6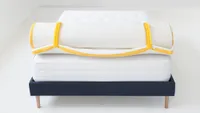 eve
Mattress Topper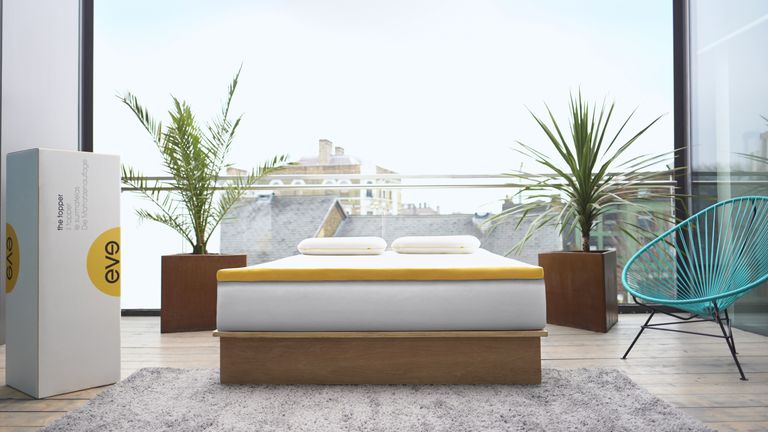 (Image credit: eve)
Once only bought to prolong the life of a skip-worthy mattress, savvy sleepers are waking up to the comfort-boosting benefits of investing in a mattress topper from day one. Even if you think your existing mattress is the bee's knees, there's always room for improvement and a topper could be that game-changing addition that pushes a standard sleep experience to the sublime.
Mattress toppers are also brilliant for filling any missing moments in your existing mattress. You don't hate it, but it could be comfier. The two most popular reasons for investing in a mattress topper is to add softness to a firm pocket sprung mattress, or coolness to an air trapping traditional memory foam. Anyone suffering from back or joint pain will also benefit from a topper that adds an extra layer of support and cushioning where it's most needed.
The way we sleep, and our material preferences are personal so there's always going to be a degree of subjectivity involved. Factors such as body weight, body temperature and even childhood bedding can have an impact on how individuals experience the same mattress. To help narrow down your options, we've shortlisted the top six toppers we believe are the best for a variety of sleep positions and priorities – starting with our favourite all-rounder by Panda.
From traditional feather and wool, to modern high-tech foam, we've dug deep to find the very best currently on offer to help fast-track you towards your dream sleep set-up. And, if your mattress is beyond the help of a topper, don't miss our guide to the best mattresses.
The best mattress toppers 2021
1. Panda The Topper
Best mattress tipper (overall): this brilliant all-rounder is the perfect balance of squish and support
Specifications
Best for: Anyone and everyone
Sizes: Single – super king, EU single – EU emperor
Thickness: 5cm
Type: Gel infused memory foam
Reasons to buy
+Hypoallergenic+Sustainable materials+30-night trial
Reasons to avoid
-Straps a bit short for a deep mattress
Who will the Panda mattress topper suit?
A great little all-rounder, this foam-based topper is perfect for anyone looking to extend the lifespan of their mattress or gain extra support. Naturally cooling, hypoallergenic and supportive, Panda really has thought of everyone when it developed its flagship, and only, topper. Although it won't suit plastic free living – the topper comes vacuum-packed and only thick plastic wrapping will do – it's made from more sustainable materials than most foam-based toppers.
What is it like to sleep on?
This is the Goldilocks of toppers; not too thick and not too thin. Striking the right depth balance is important. A really thick topper can make your overall mattress height too deep for fitted sheets and the overall bed look disproportionately high in your bedroom. Too thin and you don't get the extra comfort that spurred the purchase in the first place. Panda's topper is ideal for anyone struggling to get comfortable on their existing mattress as it is particularly effective at relieving pressure points thanks to the gel-infused foam core. This third-generation memory foam has an open-cell structure that moulds with your body weight, while retaining good airflow and was developed to solve the sweat-inducing flaws of early memory foam.
Special features?
The bamboo cover is praiseworthy and not just for its sustainable credentials. It is also very soft and giving, allowing the foam to do its thing without restriction, and can be washed at 30 degrees in the washing machine. Panda's Circle of Life Programme will responsibly recycle your topper when it's time to replace. An anti-slip silicone layer on the base helps it stay in place. There are also corner straps but are not necessary and are too tight on mattresses thicker than 30cm.
What do you get for your money?
Free delivery and a 10-year guarantee. The topper also comes with a 30-night sleep trial, which means if it isn't for you, you can return it direct to Panda for a full refund, no questions asked (only applicable for purchases from Panda's own website).
Livingetc rating: 4.5 out of 5 stars
2. Simba Hybrid Mattress topper
Best mattress topper for support: this is our best mattress topper for cushioning those pressure points
Specifications
Best for: Side sleepers and back pain
Sizes: Single – super king
Thickness: 7cm
Type: Hybrid (foam and mini springs)
Reasons to buy
+Tangible support+Cooling+Anti-slip base
Reasons to avoid
-Pricier than some
Who will the Simba mattress topper suit?
Although this topper won't beat Simba's full size Hybrid mattress for first class support, it's really worth a try if you often wake up feeling a bit achy and sore in the mornings. It is also a popular choice for upgrading guest room beds and really treating overnight visitors to a more luxurious sleepover.
What is it like to sleep on?
In short, you can expect really good, body-hugging support but without the dead-weight of solid memory foam. The latter bounciness is thanks to a layer of 2,500 mini springs sandwiched between two layers of quality latex-based foam. Side sleepers and back pain sufferers will particularly appreciate the specially designed conical springs as they really take the load off at hip and shoulder points.
It is also built to allow air through all layers, including a 3D aerated top layer that prevents hot air getting trapped inside. It won't actively cool you, but if you do wake up in a hot sweat, this topper is not to blame.
Special features
Made from Simba's own foam, called Simba-Pure, which is free from nasty chemicals. Snug-fit corner straps promise this topper will not slide down the mattress while you're sleeping. The top layer of the cover can also be unzipped for machine washing at 40 degrees and it can go in the tumble dryer on low heat.
What do you get for your money?
One year guarantee. Free delivery. A 14-day, or rather night, sleep trial – keep the packaging and return if it's not for you.
Livingetc rating: 4.5 out of 5 stars
3. Soak & Sleep Soft as Down with Silk Topper
Best mattress topper for allergy sufferers: this is our best mattress topper for sneeze-free sleeping
Specifications
Best for: Luxury without the allergies of real down
Sizes: Single – Super King
Thickness: 7cm
Type: Hollowfibre
Reasons to buy
+Generous thickness+Great quality+Hypoallergenic
Reasons to avoid
-Needs plumping
Who will the Soft as Down Topper suit?
This is a reassuringly thick topper that will add hotel-grade luxury to a tired mattress. The springy microfibre filling mimics the comfort of feathers, without the allergy issues. And it can be washed at 30 degrees (ideally professional wash, unless you have an extra-large drum) to help keep those dust mites at bay.
What is it like to sleep on?
Although this topper is medium-firm – and will do an excellent job of firming up a sagging mattress – it also feels soft and springy to sleep on. It's suitable for all sleep positions and feels almost cloud-like. You can turn easily, and it also stops motion transfer from your bed partner in its tracks.
The top layer of carded silk (which is a smooth, pure textile) combined with 260 thread count cotton casing is designed to help wick away moisture for a cooler sleeping surface and it works noticeably well. This could prove useful if your existing mattress is a bit sweat-inducing (early memory foam is particularly prone), by adding a layer of breathability that solves heat retention issues. It doesn't mould to your body like a memory foam-based topper.
While it is supportive, if you're looking for serious pressure relief, this is not the topper for you. However, many people find the hugging sensation of memory foam too claustrophobic and unsettling, and it is these people who will love Soak & Sleep's Soft as Down with Silk topper. You might need to invest in deeper sheets to accommodate the 7cm thick addition, and plumping is recommended once a week or every time you change the sheets.
Special features
The quilted design stops contents from clumping and promotes bounce. Elasticated loops hold the topper securely in place.
What do you get for your money?
Three-year guarantee. Free 365-day returns (unused in original packaging).
Livingetc rating: 4.5 stars out of 5
4. John Lewis & Partners Natural Duck Feather and Down Topper
Best luxury mattress topper: this cloud-like feather-filled topper is seriously dreamy
Specifications
Best for: Comfort and support
Sizes : Single – super king
Thickness: 5cm
Type: Feather
Reasons to buy
+Split layers for easy washing+Anti-allergy protection+Ethically sound
Reasons to avoid
-Needs regular aerating
Who will the John Lewis & Partners Natural Duck Down Mattress Topper suit?
If you've ever been lucky enough to stay at a five-star hotel and slept like a (well trained) baby, this topper will help you recreate the experience at home. Made from two layers of feathers, it will add next-level comfort to your existing mattress and is ideal for anyone who likes to feel cocooned while they sleep. Allergy sufferers will appreciate the Nomite cover, which protects against dust mites.
What is it like to sleep on?
This clever, dual-layer topper has a higher feather content in the base for support - great for cushioning pressure points and easing aches and pains. The top layer, made from softer down, is where the real plushness comes in. While modern hollowfibre toppers come close, it really is hard to beat real feather for softness, which is why feather and down is so often found adorning the beds of luxury hotels.
In short, this is a genuine 'sink into it' topper that guarantees a happy sigh every time you go to bed. Some users do find this topper adds extra cosy warmth so, if you're a hot sleeper, it may need to be stowed away in summer. On the plus side, you shouldn't need to waste energy on an electric blanket.
As it is delivered vacuum-packed, it's important to allow at least 24 hours for the feathers to aerate before popping on the bed. Fluff the topper once a week to maintain squishiness and revive flattened feathers. You shouldn't need to buy special 'deep' sheets for this topper.
Special features
The top layer comes off and can be machine washed at 60 degrees. Contains feathers and down sourced as a by-product of the food industry. Elasticated straps securely hold the topper in place, and, together with the weight of the feathers, ensures it doesn't move around in the night.
What do you get for your money?
Free delivery, or Click and Collect at various locations. Five-year guarantee.
Livingetc rating: 4.5 stars out of 5
5. The White Company Luxury Reversible Topper
Best mattress topper for temperature control: this is our best option for staying cool in summer and warm in winter
Specifications
Best for: Hot sleepers
Sizes: Single – super king
Thickness: 3cm
Type: Wool and hollowfibre
Reasons to buy
+Year-round comfort+Hypoallergenic+Luxury materials
Reasons to avoid
-Not very thick
Who will The White Company Reversible Luxury Mattress Topper suit?
Wool on one side, and hollowfibre on the other, the Reversible Luxury topper is aimed at year-round comfort for those who often find themselves too hot in summer, or too cold in winter. Made from natural materials, it is also an excellent choice for children and those with asthma or other allergies.
What is it like to sleep on?
Merino wool is a natural fibre that is environmentally friendly, biodegradable and an excellent thermoregulator. The layer of wool provides naturally soft cushioning with good bounce-back that ensures it feels luxuriously soft and plush under your top sheet. Unlike some feather-filled designs, you won't need to plump this topper to bring it back to life. The hollowfibre side is cased in 100% cotton – quality 230 thread count of course – for crisp coolness in warm summer months.
This isn't the thickest mattress topper out, so don't expect it to be your salvation if your mattress is lumpy and on its last legs. But it will definitely add a decent layer of plumpness and a luxurious boost to your bedding. It is also noticeably well made, as you might expect from this prestigious brand.
Special features
Elasticated corner straps. You can machine wash at 60 degrees and tumble-dry this topper, which is great news for allergy sufferers as this is the temperature required to kill dust mites. Professional laundering will provide better results, mainly due to bigger drum sizes.
What do you get for your money?
Free standard delivery.
Livingetc rating: 4 out of 5 stars
6. eve Mattress Topper
Best topper for longevity: a generous chunk of pure foam will boost the lifespan of your current mattress
Specifications
Best for: Breathable foam
Sizes: UK small, small double, UK double, UK king, super king
Thickness: 5cm
Type: Foam
Reasons to buy
+Cooling+Hypoallergenic+Easy to carry
Reasons to avoid
-One of the more expensive options on our list
Who will the Eve Mattress Topper Suit?
Anyone looking to give their current mattress a boost and keep it out of landfill for a few more years. This topper is basically a mini-me version of Eve's award-winning Original foam mattress, and uses the same high-tech foam and cover materials for a cool night's sleep without shelling out quite as much cash.
What is it like to sleep on?
Just like Eve's Original mattress, this topper offers that sinkable support that all-foam purists love. You won't get the plushness of a feather topper, but you'll definitely feel cushioned. On first encounter, it feels a little firm (especially if you are light) but give it a couple of minutes and your body will contour softly into position.
It is made from a 3cm-deep reflex foam base, which is where the serious support comes in (and stops your body sinking uncomfortably deep), with a 2cm-thick open-cell top layer. This top layer is more pliant and, crucially, really breathable, so you shouldn't overheat overnight. In fact, even if you suffer hot flushes, you shouldn't feel any warmer than you would on a pocket spring mattress.
Those with hip or back pain should find relief but do give it a week or two to appreciate the difference, especially if you're new to foam mattresses. It may only be 5cm-thick but the deadening effect of foam is enough to reduce disturbances from fidgety bed-fellows, as long as they keep their distance.
Special features
The straps that secure it to the bed also double as carrying handles, making it easy to switch beds, or take camping! The top cover unzips and can be washed at 40 degrees. This topper is Oeko-Tex Standard 100 certified, which offers reassurance that it doesn't contain harmful ingredients. It does have a slightly unpleasant "new" smell when opening but that fades within a day or two.
What do you get for your money?
A 30-night sleep trial – if you don't like it, Eve will collect free of charge, no questions asked. Three-year warranty. Free delivery (to most areas of the UK).
Livingetc rating: 4 out of 5 stars
Why do I need a mattress topper?
For many, the first encounter with a mattress topper occurs when an existing 'old faithful' mattress starts to give up the ghost, but funds don't quite stretch to replacement. And it's true that a topper can successfully hide a few lumps and bumps, saving your mattress from landfill for a few more years.
However, once you have enjoyed that extra level of comfort and support, a mattress topper may well become the norm. They're the dishwasher of the bedroom, once you've experienced the benefits, you'll never go without.
It's also worth appreciating that a topper can provide a really decent layer of protection to the mattress beneath. If you have invested in the best mattress you can afford, a topper will ensure that outlay lasts longer. Unlike many mattresses, a topper can usually be machine washed, some at 60 degrees, which also provides an extra layer of hygiene where you rest your head.
What do I need to consider when choosing a mattress topper?
Depth
Toppers range from 2cm-8cm thick, but we recommend aiming for at least 5cm for a really noticeable comfort boost. Do take into consideration the depth of your existing mattress. If it's already thick, adding 8cm may make getting in and out difficult, not to mention the issue of finding fitted sheets deep enough to accommodate both topper and mattress.
Breathability
If you often wake in the night feeling too hot and a bit sticky, prioritise breathability. Aerated layers and open-cell foams equate to freer air movement and a cooler night's sleep. More serious issues are best tackled with a gel infused topper.
Fit
A topper that moves around in the night is incredibly annoying, not to mention uncomfortable. Toppers can also be quite heavy and unwieldy, especially foam-based designs, so you need one that stays in place. Look for wide elastic straps with sufficient length to hug your existing mattress securely. They can be tied shorter if required but too short elastic will ping off in the night. Some also sport non-slip bases for extra resistance. Do check the dimensions closely to ensure a close match with your mattress. Cheap toppers are often smaller than they should be, which reduces your sleep area.
Cleaning
It's recommended you clean your topper every six months to maintain good hygiene and longevity. Taking your topper to a professional cleaner is often necessary due to sheer size – a 7cm-thick super-king topper simply won't go into the drum of a domestic washing machine. Foam toppers often have a zip-removeable top cover, which can easily go in your washing machine and dryer, which is worth prioritising if you have dust allergies. Adding one of the best mattress protectors is another way to keep your topper clean – just find one big enough to wrap over topper and mattress.
What are the best mattress topper materials?
Memory foam can be a real 'Marmite' material for some as it lacks the bounce they are used to from a more traditional topper, but if it's spine-support your current mattress is missing, it's worth taking another look. Check out 'new generation' open cell foam to avoid sweatiness. Some, like Panda, inject the foam with gel, which is designed to take the heat away from your body. All the foam toppers on our list offer sleep testing, so you can return your topper if it's not for you.
Hybrid toppers combine mini pocket springs with thin layers of foam, and sometimes latex, to provide more bounce than you'd typically expect from foam alone. A real people-pleaser, hybrid toppers suit most sleep positions and tend to be star performers when it comes to temperature and allergy control.
Down/feather is still the go-to for luxury bedding companies, and with good reason. Look for a mix of fine down and feather to enjoy maximum softness – akin to sleeping on a giant feather pillow! Kept well plumped, they will regulate temperature surprisingly well but it's in winter that the squishy warmth comes into its own.
Hollowfibre toppers (a.k.a microfibre) are similar in feel to feather and a great alternative for anyone with major dust allergies. If a feather pillow makes you sneeze, there's a good chance a feather topper will do the same. Hollowfibre is also suitable for anyone avoiding animal products and is usually machine washable.
Wool toppers are a bit more niche but offer a very luxurious softness and bounce that is less likely to flatten, or lump compared to feather. A natural temperature regulator, wool will keep you warm in winter and cool in summer and is also a sound choice for allergy sufferers. Not all can be cleaned so do check before you buy.
Linda is a freelance journalist who has specialised in homes and interiors for the past 19 years, beginning on a trade rag for the Daily Mail Group and now writing full-time for the likes of Homes & Gardens, Livingetc, Country Homes & Interiors, Ideal Home and Real Homes. Linda is our resident mattress reviewer. She spends a couple of weeks on every mattress she tests for us, as does her ever-patient husband. In reviewing mattresses for us for more than two years, she has become something of a very opinionated expert. She lives in Devon with her cabinetmaker husband, two daughters and many pets, and is locked in an on-going battle to drag their red brick Victorian home out of 1970s swirly-carpet hell...