Off grid living - the expert guide to what it is and how to get it right
Off grid living sounds like a wonderful idea - this guide to its realities will help you decide if it's right for you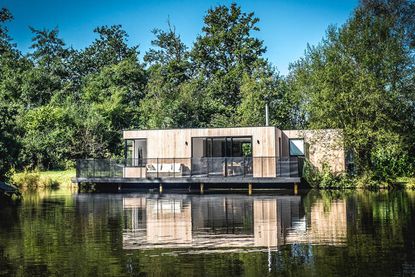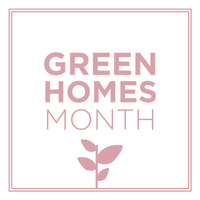 (Image credit: Sandra Whipham)
Off grid living is an enticing dream, isn't it? Imagine being in a truly self-sufficient way – generating your own power, growing your own food, rearing your own livestock and being free from the 'connected' systems of society… It's hard to picture, isn't it? So reliant we are on electricity being available at the flick of a switch and popping to the shop for whatever food we fancy.
If that's a step too far for you and bringing you out in cold sweats, don't worry. Here we're looking at off grid living where you can still buy food in, but where you can live off the main power grid by generating your own power from the earth's natural resources, normally solar or wind.
Even this version of off grid living is not for the fainthearted as Chloe Massey of Indigo & Olive, pictured below, a company that makes off-grid homes on wheels, comments: "this way of life can take some getting used to, so be prepared for doubt and comparing your life to others and remember why you are choosing to live this way."
Why might you choose to off grid living?
"Our first question is always 'why?' There are a number of benefits for off grid living, not least for the environment and general wellbeing but there are compromises and drawbacks of cost and practicalities," says Johnathon Little, Founder, Koto Design.
So press pause on your Grand off grid Design until you've answered this question: why?
Do you have romantic notions of this lifestyle, where you have freedom and control over your life and a deeper connection to the environment? Or do you want to be a bastion of sustainable living? If it's the latter, Piers Taylor, Architect and TV Presenter, would encourage you otherwise, "ask yourself the question: 'do I want to be sustainable or do I want to autonomous?' If it's to be sustainable you'd be better off sharing your resources with others. The more people live together and share resources, the more efficient everything is. In fact, living in a dense city is probably the most sustainable thing you can do."
Tim Pullen, an expert in sustainable building and energy efficiency, agrees that off grid living is about being autonomous: "It means you are on your own – no back-up. It is you, and only you, that pays for the generation system, the maintenance and is responsible for fixing any break down. There are three kinds of people that want to try off grid living: those that believe it will be cheaper and less CO2 damaging than using grid power (they are wrong, it is not), those that foresee Armageddon and see it as essential to survival (they are wrong too – hopefully) and those that are remote with no access to the grid (they are right, in that they have no choice)."
So, if that hasn't burst your off grid living bubble and you fit into Tim's third category – someone who has a remote plot of land where shared resources won't reach, read on…
What might we need to think about if we're considering off grid living?
What do you need and want from your home?
Koto Design, who specialise in sustainable on and off grid living, start by looking at the needs and ambitions of the client and the site: "We pride ourselves on the ability to be able to deliver a variety of options to our clients to suit design, budget and site constraints before deciding whether a project should or should not be off-grid, or a hybrid of the two," says Johnathon Little, founder of Koto Design.
Work out how much energy you will need
If you are going off-grid you need to know how much energy you will need because you will have to provide it all yourself. "Past electricity bills are the only practical means to work out annual and average daily consumption," says Tim Pullen. An energy expert will also help you do all the calculations, working out precisely how much energy you will need, how it can be generated and what it will all cost. Having this information will help you make an informed decision.
Work out how you will generate your energy
Once you know how much electricity you need, each day and across the whole year, you can then decide of how you will generate it and how big the battery system needs to be. How you generate your energy will vary with the site and the resources available.
Clearly solar power is a particularly reliable source of power in sunny, warm climates that get prolonged periods of sunshine as David Hilton, expert in renewables and energy efficiency points out: "South Africa, where I'm from, has the same solar resource in winter as the UK gets in the summer. To work out how much energy you would get from different kinds of Photovoltaics (PV) systems in any place in the world use Photovoltaic Geographical Information System (PVGIS) - a website that gives you information about solar radiation and PhotoVoltaic (PV) system performance." This is why in the UK you can't really rely on solar power solely and need additional power.
Have more than one source of power
"The first major thing for us to think about was energy; where was it going to come from and would it sustain us year round in the UK? We decided to go all solar, we had a dream of all our appliances being powered by renewable energy, but we struggled during our first winter and had to use a backup generator, so over the summer we will install a 500watt wind turbine to help when it's cloudy. This was a lesson for us that it's always good to have more than one source of power. When you are living off grid its great not to be totally dependent on one thing working, because often something will happen, like you run out of gas, your pipes freeze or its cloudy for two weeks," says Chloe Massey, from Indigo and Olive.
Tim Pullen agrees, "it is fairly easy to generate enough electricity across the year to satisfy the demand, but it is tricky to guarantee sufficient production on any given day. For that reason, it would be typical to have two technologies: perhaps a selection from wind, solar and hydro, possibly with a petrol generator for days when the wind doesn't blow or the sun doesn't shine. There will need to be a battery bank that is big enough to meet demand for three days. It is unusual to have insufficient wind for more than three days, but there will often be times in winter when there is insufficient sunshine for more than three days – which is why the wind turbine or petrol generator are often incorporated."
This then begs the question: how much is this going to cost and is being off-grid really a good idea? You'll have to make sure that it makes financial and practical sense and be prepared to pay more upfront to install the various technologies and be committed to the long-term maintenance of these technologies.
Will you be completely off-grid or a hybrid? Consider that off-grid electricity is not cheaper or lower CO2
Unfortunately for those wanting to be greener, off-grid living on your own isn't always the greener alternative when you consider the cost of generation equipment, battery storage and maintenance it works out to be similar price or slightly more expensive than grid electricity. According to Tim Pullen, "the CO2 content of grid electricity is falling due to growth of wind and solar farms and nuclear power. When you consider the embodied CO2 in the off-grid generation equipment there is not much advantage."
Sustainable construction
Still set on building an off-grid home? To make your home as sustainable as possible make it from recycled, reused materials or sustainably sourced FSC approved timbers, which capture CO2 in the fabric of the building and actively remove it from the atmosphere, helping to create a carbon-neutral home. Consider using natural insulation materials, natural paints and minimize the use of plastics.
Piers Taylor adds that "80% of our carbon footprint is generated from the building itself and only 20% is generated from the power you use, so off grid living will help you reduce your carbon footprint by only 20%. Arguably it is more sustainable to retrofit an existing building and make it energy efficient, no one has managed to build a zero carbon building."
However, there are ways you can make your build greener, not only in the construction but also in the foundations. Prashant Ashok, designer and owner of the Etérea Hideaway, believes "the conversation about sustainability is more crucial now than ever before with water scarcity, pollution, and the degradation of our natural resources. I think sustainable architecture is an important way in which we can inspire conversations about how we interact with our environment, and this was the central idea behind Etérea Hideaway. Working from an intention to leave the landscape untouched, the foundation of the house was built entirely from rock collected off the mountain. Off-grid living that aims to be sustainable must consider how to build in a manner that has the least impact on the environment."

Truly sustainable design looks at the bigger picture of the carbon consumption of the build process and how much carbon the building itself can capture.
Accessing water when you're off grid living
When looking for a location for a home see what water sources are available. Is there a natural water source? A borehole is usually the answer; if you drill down deep enough almost anywhere in the UK you will hit water. However, you then have to factor in the extra electricity that you will be need to pump the water around the house. Another option for off grid living is a rainwater collection system, which is how the Etérea Hideaway gets its water supply.
How to heat an off grid home
Now you've got water, how will you heat your home? Will you heat your home with electricity, perhaps generated from solar? Or using a woodburner, biomass boiler or heat pump?
Arizona is kept warm and cosy with a woodburner and Chloe recommends choosing "more sustainable materials to burn. We use coffee logs made from waste and briquettes from recycled wood chippings."
Also think about using natural resources you have at your disposal to help lower the cost and time needed to heat your home, such as a ready supply of wood or positioning your home to make the most of passive solar. Positioning large windows south facing to make the most of solar gain and any windows on the North of the building smaller to prevent heat loss.
Keeping the heat in
Now you've warmed your house, how to keep the heat in? "Insulation, Insulation, Insulation," says Piers Taylor, who has recently wrapped his home, Moonshine, outside Bath with interior insulation and exterior cladding.
If you insulate your home well and avoid air leakage, the energy needed to heat your home will be minimal.
Don't forget ventilation for your off grid home
Now you've heated your home and kept the heat in with all the insulation, it's important to think about how you will ventilate your home to free harmful pollutants and moisture. Conservatory House in South Africa has an automated glass facade that opens up to allow natural ventilation.
Ventilation, , the exchange of indoor and outdoor air, keeps your home safe and healthy as Chloe Massey points out: "I would say one overlooked element is ventilation, with a small space especially, you might instinctively keep it closed to keep it warm and to conserve energy. However, especially with woodburners this can create a build-up of pollutants."
What to do with waste when you're off grid living
Off grid living isn't just about power, when not connecting to mains services, it's also about the less appealing aspect of your waste.
As David Hilton points out: "you need to work out where your grey water (shower water and bathroom water) and your brown water (toilet waste and contaminated water) will go. If organic, grey water can be fed into a soakaway and brown water might need an organic macerator, which you will need power for."
Will you have a composting toilet and a septic tank? And what other options? Tim Pullen recommends that "sewage can be processed using a biodigester but a reed bed would be a more eco-friendly option."
All things to consider, research and get expert advice on…
Is off grid living still for me?
Off grid living is really for those who want to live in a remote location and are unable to connect to main services. It is for the committed, not for the fainthearted as Tim Pullen reiterates: "put it this way; if you don't enjoy camping holidays in winter, then you are probably not the type of person that will enjoy off-grid living. It is difficult to achieve, expensive and, if access to the grid is available, arguably pointless. Given that this is the 21st Century, and that the grid exists, you have ask yourself the question why anyone would choose to live in a 19th century way and go off-grid?"
Chloe Massey, is still optimistic, "it opens up a world of opportunities outside of your house, there are so many reasons to have confidence in choosing this alternative lifestyle." And for a stunning setting where mains services won't reach, off-grid technologies certainly enable you live in unique locations, such as Buck's Coppice in Dorset, which is in the middle of a Site of Scientific Interest (SSSI) with incredible views over the lake.
And if this whets your appetite, take a look at the most beautiful off grid homes in the world.
The Livingetc newsletter is your shortcut to the now and the next in home design. Subscribe today to receive a stunning free 200-page book of the best homes from around the world.
Jo is a serial property renovator, relishing the challenge of taking a tired, lack-lustre property and realising its potential. Growing up under the wing of a property renovator father, Jo's first experience of DIY was with her Fisher Price toolkit as a four year old. Now with many property projects under her belt Jo has learnt how to renovate on a budget with careful project management and well considered spatial and interior design. Jo is a regular presenter for the Homebuilding & Renovating Show, contributor to the magazine and founding partner of Mae House Design