10 climbing plants for shady corners - that also give privacy, color and instant backyard beauty
Bring dark corners to life by choosing the best shade-loving climbers to add some shine and turn drab into dazzling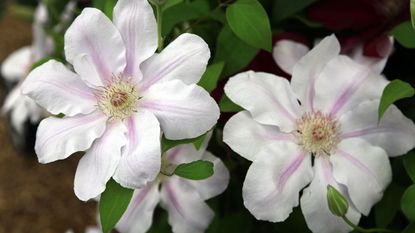 (Image credit: Ros Drinkwater/Alamy Stock Photo)
The Livingetc Newsletter
For style leaders and design lovers.
Thank you for signing up to LivingEtc. You will receive a verification email shortly.
There was a problem. Please refresh the page and try again.
If you live in the city chances are your outdoor space will have at least some areas of shade for all or part of the day. Even those of us with a south-facing space can end up with shaded areas of the garden, often along boundaries, usually cast by buildings or trees as the sun moves round. Meanwhile If your garden faces north or east you'll definitely have more shade than sun over the duration of the day.
You will probably also want to include climbing plants to add privacy and mask walls. A common misconception is that you can't have lovely climbing plants if your backyard is too shaded. The good news is there are many climbing plants than can tolerate shade, and some that actually prefer it. It's a great opportunity to add lush greenery and texture to your planting scheme. Utilising wall or fence space by covering them with climbing plants adds an interesting focal point, enhances your sense of privacy, and helps to lift gloomy corners.
Everything featured here on our shortlist of the best climbing plants for shade likes the cool, shady conditions offered by walls, fences and garden buildings that get little or no direct sun.
10 of the best climbing plants for shade
'Urban garden spaces often come with their own microclimates by virtue of walls and concrete,' says planting design specialist and shade garden expert Susanna Grant, author of Shade. 'Green foliage, delicate flowers and movement of light across plants contrasts well with the hard materials and clean lines of urban architecture.'
The key to success when choosing climbing plants for shade is to work with what you have. 'When I moved from an apartment with a tiny balcony where I planted in containers to a townhouse I thought it was going to be great with so much more room to grow things,' says Robin Phelps, gardening and preserving coach at sowmanyplants.com, based in Carroll County, Maryland. 'Despite the fact I had so much shade in the back yard due to the huge mature trees, I didn't let that deter me and I had to learn the best way to grow in my new surroundings. Everyone needs to be aware of their specific microclimate where they are trying to grow.'
Keen to transform your shady space with the right plants? Take your pick now from our expert selection.
1. Chilean lantern tree
This stunning evergreen also goes by the more fancy name of Crinodendron hookerianum. In spring and summer it has clusters of vibrant red blooms shaped like lanterns. As the roots like to be kept cool and shaded it prefers a sheltered position. Give it these conditions and it can grow up to 16 feet high.
'Many climbers like their roots shaded as they grow towards the sun,' says Susanna Grant. 'If you're planting them in the ground, make sure they are around 20 inches away from any walls or garden fencing so they are not in a rain shadow and can receive rain.'
This species includes many beautiful varieties of trees and shrubs as well as climbing plants. The ideal way to use it is up against your house or a wall where it can perform as a multi-stemmed evergreen that provides year-round interest and form. It can also be grown in a large container, again with the roots kept in the shade.
2. Chocolate vine
Also known as Akebia quinata, this vigorous and very pretty twining vine is covered with clusters of deep burgundy, scented flowers that have a spicy fragrance with just a hint of vanilla. It can be trained against a semi-shady north-facing wall or over a pergola, as well as in pots, and it also thrives in sun.
If you live in a climate that gets hot summers the chocolate vine will even produce fruit. For this to happen you will need to have two plants that can cross-pollinate.
These easy climbers can grow up to 30 feet tall, which makes them a good choice for covering the side of large houses, as well as pergolas and cabanas. Once established, avoid moving your chocolate vine as they don't like being disturbed.
3. Climbing rose
Many climbing roses are well suited to growing in light to moderate levels of shade but none are suited to heavy shade. However some varieties only require four or so hours of good sun each day. If they don't get it they will still produce flowers only slightly less of them. Being planted in shadier conditions can also bring out the color in paler varieties, which would otherwise be bleached out in full sun.
'Planting roses in shady positions is a great way of bringing color and interest to forgotten areas of the garden,' say the experts at David Austin Roses. 'The main consideration when planting roses in a shady spot is to avoid areas where there are overhanging branches and dry places, as this would mean too much competition from the roots of trees and other shrubs.'
Climbing roses that are suitable for an open, north or east facing wall or other shady position include the repeat flowering English climbing rose 'Claire Austin'. This vigorous rose makes a very good climber, and has a strong myrrh fragrance with dashes of meadowsweet, vanilla and heliotrope.
4. Climbing hydrangea
'Climbing hydrangea (Hydrangea anomala 'var.petiolaris') is one of the most sought-after climbers for its beautiful flowering cover and ability to climb up to 40 feet on vertical structures and trees,' says Rich Christakes, founder of the plant-based marketplace Ship My Plants. 'This hydrangea can thrive in areas with full sun, partial shade, and shade, making it a versatile choice for any landscape.'
The best-known climbing hydrangea - petiolaris - will creep sideways along walls, fences and other structures. It's covered in masses of showy, lacy, white flowers in late spring and early summer, which add a luminous touch to any shady yard. It is easily trained and looks attractive all year round.
Great for covering a north-facing wall or as one of the best plants to cover a fence, it can be lightly cut back after flowering if you don't want it to become too bushy. When the elegant flowers fade they look great in winter if you leave them as seed heads.
5. Variegated ivy
Ivy is the go-to if you want to add a lovely year-round green backdrop to a shady part of the yard. All varieties of ivy are great climbing plants for shade, and they grow prolifically even in heavy shade.
Ivy is versatile and easy to grow in any situation - ideal for a low maintenance garden. There are many different types of ivy to choose from including variegated ones, so why not mix up a few for a more interesting effect, especially the cream or yellow splashed colorways to help lighten a dark space.
'Hedera helix 'Green Ripple' has lovely fresh green foliage. It's vigorous and great for providing a green background to other plants,' says Susanna Grant. 'Ivy has a poor reputation, but it is actually a really useful plant for wildlife, especially through winter when there's not much else around.' It makes a great home for nesting birds and hibernating insects.
6. Star jasmine
A versatile and enchanting vine that adds a touch of fragrance and luminous beauty to shady yards, star jasmine (Trachelospermum jasminoides) climbs effortlessly to cover walls or trellises, providing an attractive screen - it's one of the best plants for a privacy fence. It is sometimes said to prefer full sun, but works well in shade too, perhaps with slightly fewer flowers.
'Star jasmine thrives in both full sun and partial shade, offering flexibility in terms of placement and sun exposure,' says Robin Phelps. 'It has an abundance of small, star-shaped, white flowers with a sweet, intoxicating fragrance. The scent adds a delightful sensory experience to your outdoor space.'
This vine has glossy, dark green leaves that provide year-round visual interest and maintain their lush appearance, even in colder climates. Star jasmine is relatively low-maintenance, making it an excellent choice for busy people. It tolerates pruning well and can be shaped as desired.
7. Clematis
Clematis are great climbers for shady gardens as there is a choice of varieties for every situation. Some clematis even grow in heavily shaded areas. Most grow well in sun or partial shade, but flowering can be less prolific in a very shady spot.
They are one of the fastest growing climbing plants with their masses of flowers in a wide variety of shapes and colors. The team at Nature Hills are big fans of Ethereal Charm Boulevard 'Chantilly', which thrives in partial shade and works well in small space gardens as it stays tightly compact. It can also be grown in patio pots.
'Fragrant, fancy Chantilly is a great choice. It starts producing exquisite blooms in late spring and the flower power doesn't quit until late summer. The ruffle-edged pale pink sepals are accentuated with pronounced blush, and the large blooms mature to pure white. This showy modern cultivar stays small and makes a wonderfully elegant accent.'
8. Virginia creeper
Known for turning glorious shades of fiery red and orange in fall, this rampant climber is often used to cover walls, and can make a partially shady spot pop with color. To achieve a truly spectacular show it is best grown in full sun. Nevertheless it's tolerant of moderate levels of shade making it a great choice if you want a real blaze of color.
A quick easy-care grower that's self-clinging and will quickly cover an eyesore, some people consider Virginia creeper an invasive species, but it isn't as it's native to the US. If you are concerned about it taking over your yard try 'Engelman Ivy', a variety of Virginia creeper with smaller leaves that's not as vigorous and one of the most beautiful of the fall colored vines, featuring burgundy, copper and bronze highlights.
9. Honeysuckle
One of the best loved scented plants, honeysuckle (Lonicera) will weave through roses and other climbing plants adding its heavenly fragrance to the mix. Honeysuckle is a great addition to any landscape and will draw in wildlife with its yellow, pink and red blossoms. While honeysuckle prefers full sun, the good news is they will tolerate some shade too.
Honeysuckle belongs to a large family that consists of hardy shrubs and vines that grow in almost every state in America. Try 'Graham Thomas', an easy-to-grow and fast establishing honeysuckle with pale creamy yellow flowers and fabulous evening scent, or compact and highly fragranced 'Chic et Choc', with flowers tinged with slashes of dramatic purple. This variety of honeysuckle loves nothing more than a shady location.
Meanwhile native trumpet honeysuckle produces bright red flowers that hummingbirds swarm to in late spring and reblooms through fall. Its shiny dark green leaves with red stems remain attractive through the season. It is native to all of eastern North America, a wonderful heat tolerant perennial.
10. Fatshedera
The fatshedera plant is a unique vine that can be grown outdoors in most light conditions, or indoors as a houseplant. It thrives in part shade or full shade, and the giant variegated ivy leaves add light to shady spots. It adds lovely foliage to shaded areas as the plant climbs up the trellis or other support. It's also evergreen, so provides year round interest.
'Fatshedera 'Angyo Star' is a hybrid of Fatsia Japonica and English Ivy,' according to experts at the Southern Living Plant Collection. 'Gorgeous oversized green leaves are accented with creamy white, illuminating part shade to full shade areas. This climbing vine has the beauty of English Ivy without the need for you to worry about roots growing into the mortar or spreading aggressively.'
As well as being one of the best climbing plants for shade, the fatshedera plant can also be propagated fairly easily so why not take the loveliness indoors by growing a few houseplants from some stem cuttings.
For style leaders and design lovers.
Lifestyle journalist Sarah Wilson has been writing about gardens since 2015. She's written for Gardeningetc.com, Livingetc, Homes & Gardens, Easy Gardens and Modern Gardens magazines. Her first job on glossy magazines was at Elle, during which time a visit to the legendary La Colombe d'Or in St-Paul-de-Vence led to an interest in all things gardening. Later as lifestyle editor at Country Homes & Interiors magazine the real pull was the run of captivating country gardens that were featured. Having studied introductory garden and landscape design as well as a course in floristry she is currently putting the skills learned to good use in her own garden where the dream is establishing a cutting garden.