How to sleep in the heat – sleep experts explain how to keep cool on warm summer nights
Try these 7 expert tips for how to sleep in the heat better to ensure you survive sleeping in a heatwave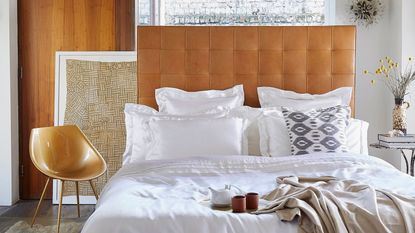 (Image credit: Gingerlily)
Knowing how to sleep in the heat is a given if you're from a naturally warm state (or even country, depending on where you're reading this from). Yet for some, heatwaves are rare enough that owning air conditioning isn't essential. But, that's exactly why it hits us so hard whenever the mercury rises to anything over 62 degrees - seemingly the optimum sleep temperature.
While high temperatures might zap energy and cause your attention span to dwindle during the day, it's at night where it can cause real problems. 'A hot room or environment lowers the quality of your sleep significantly,' explains Dr Michael Breus, otherwise known as The Sleep Doctor. 'Sleep follows your core body temperature cycle, and when you sleep it needs to be low.'
It's biology, so even if you enjoy warm spells, you're likely to still find it nigh-on impossible to get to sleep easily if temperature extremes continue on into the night. 'In preparation for sleep at night, the body pushes heat to the extremities,' Dr Breus outlines. 'These physiological changes work to lower your core body temperature, and with that drop in body temperature comes feelings of drowsiness, and eventually, sleep itself. Body temperature stays low throughout the night before beginning to rise in the very early morning hours, helping prepare you to wake up and be active and alert.'
There are, fortunately, plenty of modern bedroom ideas to help moderate your body temperature, that will come in useful not only for sleeping better in summer, but all the time. They vary from design choices for your bedroom and ensuring you pick the right bedding, to switching up your habits and managing your sleep routine with warmer weather in mind.
Experts reveal how to sleep in the heat better
Taking control of the room temperature is a good place to start when it comes to how to sleep better. 'An ideal bedroom temperature should be around 62°F,' says Lisa Arten, deputy CEO of The Sleep Charity, 'but anything over 75°F is more likely to cause restlessness, leaving you suffering from a disturbed night's sleep.'
1. Use an electric fan
Modern fans are a good way to help circulate air to avoid it feeling too stuffy, but cooling air conditioning units are the only ones that will actually bring down the temperature ('unless, if it's really hot, you put a tray of ice and a little water in front of the fan which will cool the air even more,' suggests Lisa.)
As you'll want to use it during the night, look out for devices with quieter 'night' modes, to ensure the hum of the fan doesn't keep you up instead of the heat.
2. Stop your bedroom heating up during the day
Even better than cooling down your bedroom though is avoiding it getting too hot in the first place. Closing bedroom curtains and blinds during the day in your bedroom will help keep the sun out and your room temperature lower.
If you forget when you leave for the day, smart curtains could be operated remotely to ensure your house doesn't overheat while you're out. It can take a long while for your space to cool down afterwards, after all.
The specially designed smart device SwitchBot Curtain (from Amazon) can help you keep your room cool wherever you are in the world. Simply attach them to your curtain rod and control them via your phone or schedule them to close and open at certain times.
3. Change your duvet tog
Next, turn your attention to what you're sleeping on, and under. 'It may sound like an extra chore, but changing your duvet in summer is really worthwhile,' says Chrissie Rucker, founder of The White Company. 'Pack away any 13.5 or 9 tog options and switch to a lower tog - a 4.5 tog is perfect for summer as this is lovely and light during the warmer months.'
4. Choose the right materials for comforters and mattresses
Choosing natural materials is, in general, a good indicator that your duvet is going to be able to regulate your body heat, ensuring you don't get too hot under the covers, or too cold if the temperature dips. This counts for both the content of your duvet, and your bed linen. 'If possible, pure cotton, linen and silk are all naturally breathable fabrics that feel fantastic and help keep us feeling cooler,' Chrissie adds.
The right mattress will do the same for you, too. 'A sleeping surface that allows airflow to circulate throughout the night is important,' says Dr Rebecca Robbins, a sleep expert for Savoir Beds, 'particularly at the beginning of the night, when we walk in and lie down on our beds. We want to make sure that our body is in the thermal neutral range or slightly on the cooler side.'
'Certain components such as foams and other synthetic materials can be heat-inducing,' Dr Robbins explains. Materials such as wool, horsetail, cashmere and cotton all breathe exceptionally well, preventing you from getting too hot. They allow the bed and sleeping surface to wick away moisture. This helps you to maintain an optimal, even temperature throughout the night. Plus, it's a better bet for sustainable living too - win, win.
5. Layer up your bed
'Layers are usually associated with warmth, but we are talking about layers which you can remove instead of load on,' says Jo James from online bedding brand Bedfolk. 'Make your summer bed with layers of sheets and quilts, or light blankets, rather than a heavy duvet. A linen sheet with a lightweight quilt is the ideal summer bed combination as you can fold the quilt back when it is warm and tuck it back over if the night is a little cooler,'
Linen is a natural regulator so sleeping under a linen flat sheet will allow your body to maintain a peaceful sleeping temperature – even if that is different to the partner you share your bed with! This makes it one of the best bedding fabrics you can choose.
'The bacterial resistant and moisture wicking benefits of linen have the effect of a natural anti-perspirant, so you have less nights tossing and turning,' Jo explains. 'Just make sure it is 100 percent natural and isn't mixed with synthetics.'
6. Choose your sleepwear carefully
What you wear to bed also matters. Though a heatwave may make you want to strip off for bed, sleeping naked may actually make you more uncomfortable in the heat, according to some sleep experts. So what sleepwear should you opt for in summer? 'Natural materials, always,' says luxury sleepwear designer Olivia Von Halle, 'while avoiding synthetic fibres that don't let your skin breathe.'
Silk is the top choice for warm summer nights, Olivia explains. 'As well as feeling butter soft against your skin, silk also regulates your body temperature and controls moisture levels, making it the perfect material to sleep in during the summer months.'
7. Keep your sleep schedule on track
Trying these ideas will give you a fighting chance to sleep better during the summer months, but if you find heat-induced insomnia a serious problem, you also need to look at improving your sleep hygiene.
'Don't ditch your sleep schedule,' suggests sleep expert Dr Michael Breus. 'Limit your evening light exposure, take advantage of morning sunlight, load up on Vitamin D and pay down your sleep debt.'
'You should keep a consistent bedtime but more importantly your wake up time must be consistent seven days a week.' That means no sleeping in on the weekends, something that's perhaps harder to swallow than any sleeping pill.
What is the Egyptian Method for sleeping in warm weather?
The Egyptian Method refers to a practice of sleeping under a wet blanket, sheet or towel to help you cool down on extremely hot nights. By washing the towel and allowing it to dry, either naturally or by being put through your washing machine's spin cycle, you'll have a slightly damp textile to put over you when sleeping.
This will cool you down by evaporation during the night, without leaving you too wet and uncomfortable. On a very hot night, this idea could be your best bet.
The Livingetc newsletter is your shortcut to the now and the next in home design. Subscribe today to receive a stunning free 200-page book of the best homes from around the world.
Lotte is the Digital Editor for Livingetc, and has been with the website since its launch. She has a background in online journalism and writing for SEO, with previous editor roles at Good Living, Good Housekeeping, Country & Townhouse, and BBC Good Food among others, as well as her own successful interiors blog. When she's not busy writing or tracking analytics, she's doing up houses, two of which have features in interior design magazines. She's just finished doing up her house in Wimbledon, and is eyeing up Bath for her next project.