Glass additions - the expert guide for adding a shiny new extension
Glass additions are the modern way to extend your home, and our experts tell you everything you need to know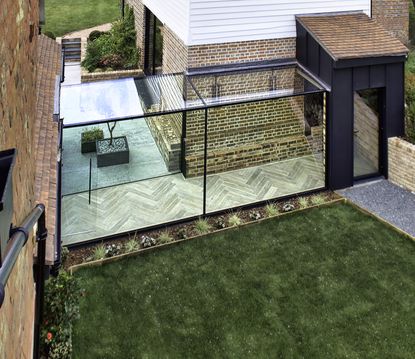 (Image credit: IQ Glass)
Contemporary glass additions have a wow factor that it's hard to beat. They can add glamour and extra space to any home or could be used to connect the main house to an extension or outbuilding, or to create extra rooms that hadn't been there before. Glass additions are a great way to bring light into a dark space - whether it's a glass box on the back of the house, an atrium at the front of the house, a stunning glazed rooftop extension or simply a skylight or lantern.
As far as home extension go, glass ones are some of the most versatile. They can also be traditional and are often used on historic houses as they don't detract from the beauty of the building, allowing it to shine through. There are so many designs to choose from and some pitfalls – privacy for example, and keeping it clean. But get the design right and a glass extension could increase the value of your home, flood your home with light, reduce your energy bills and help with ventilation.
'There are two ways of developing your addition - one is from the outside in where the designs are based upon the physical conditions of the exterior of the property, for example, if there is a drain running at the back or there is limited space, so you design the space to fit within the physical constraints,' says Keith Myers of The Myers Touch.
'The other way of creating the space you want is to design from the inside out, so you are designing your perfect interior space, and then wrap the exterior around it,' Keith adds. 'You may have some dead garden space to work with or an old sun room, and these are all great starting points for your addition design. Also think about how you will use your new space throughout the seasons, how to make garden access easy, and the best ways to bring in more natural light too.'

To create your dream glass addition, start by consulting an architect, preferably one who is recommended or who specialises in them, as chances are they will have overcome all sorts of difficulties in the past and can pass on their knowledge and expertise to create the best design for you. There are also plenty of bespoke glazing companies who will do it all, from architect-led design, through planning and professional installation. Spend time researching companies who specialise in glazing projects for inspiration.
Glass additions
1. Glass box rear additions
Depending on the size and complexity, a glass box addition can be costly and will require a designer, manufacturer and contractor to advice on glazed walls, roofs and door systems.
It's best to employ a project manager for a complex glazed extension, to prevent the horror stories of homeowners getting the calculations wrong and ordering the wrong size glazing with disastrous – and expensive - results.
Glass is hard and strong but is also brittle, rigid and more difficult to install than other building materials. Large pieces of glass need to be transported and installed in oversized pieces and often need a crane to get them into place, which can add significant costs.
'Panoramic rear glazing can be used to bring the outside in, or if the plot is narrow or north facing you could think about a full-on glass box,' says Richard Atkins, Director of Design at DesignSpace London. 'However, it is important to design the extension and what the room is to be used for hand-in-hand so that walls can be planned to house kitchen units, for example, and services can be positioned in the right place. As with all building works of this type you will need to comply with building regulations to ensure that the amount of glazing is within the permitted limit for your building.'
2. Glass roof additions
Adding a glass roof addition or roof lights can give the illusion of a glazed extension and bring in much needed light but doesn't compromise on wall space, and can be installed on almost any type of property. Roof lights, skylights or lanterns can be made to fit any size or shape of roof and many take the theory of an automated home to its uppermost limits - literally - with a ventilation system that can be opened or closed by remote control.
Choosing self-cleaning glass means your roof light will pretty much look after itself. Also consider a solid roof with openings rather than a pure glass roof as it will be easier to conceal tracks or blinds to create shade if necessary.
A rooftop glass extension could be a clever way to enclose an existing balcony on an upper floor to create extra living space. It still feels outdoors but is protected from the weather. Using structural glass beams gives a minimal look and means the view is uninterrupted. They also have the added benefit of creating the illusion that the extension is larger than it really is.
3. Glass atrium addtions
Are another way of bringing in light and are often used to create a design statement entrance. They are essentially a large open-air, skylight-covered space surrounded by a building, and can be made in all styles, contemporary or traditional and can be sometimes used on historic buildings.
4. Glass orangery additions
Traditionally, a sunroom was a building attached to the main house and was a place to grow plants, whereas orangeries were grand buildings used to grow orange trees in period homes. Nowadays, sunrooms and orangeries are pretty much the same thing - an extension of the main house to provide an extra room. In fact, the kitchen orangery is a big trend. The official definition is that it is a building with at least 50% side walls and 75% roof area. Sunrooms and orangeries come under permitted development, so there is usually no need for planning permission.
5. Glass balcony additions
For a stunning design feature, a glass balcony on the first floor will bring in light and ventilation to a bedroom or first floor living room and would make the most of any views. There could even be space for a table and chairs.
6. Glass link additions
Linking the main house to an extension, outbuilding or other structure offers a weatherproof connection and makes the linked space more usable. Using frameless glass makes it 'disappear' and brings in light. These designs work particularly well in listed or historic buildings as they are unobtrusive. They can also be usable spaces in their own right, as a seating area for example.
Thermally broken structural glazing was used for its unique thermal efficiency in this frameless glass link to give a comfortable temperature all year round. It also includes a Sieger Slim Sliding Door and large gable end window to ensure the maximum amount of natural light.
Do glass additions need foundations?
Glass box extensions and additions do not always require foundations, although larger ones will. Glass 'conversions' are usually built from an aluminium framework that is bolted to your property as well as secure footings. 'It depends on the ratio of glass to walls.' Says Andy Kemp of i-furb Bespoke Construction. 'All glass structures will need a steel frame which will require a 1m x 1m x 1m pad for the steel columns to sit on and a shallow footing of around 300mm between the pads for the glazing to go in. You will also need a dampproof course to cover the extended area.'
What is the difference between a glass extension and a conservatory?
The main difference between the two is the proportion of glass. The official definition of a conservatory is that it is a building with at least 50% of the side walls and 75% of the roof area is made from translucent glass or polycarbonate glazing.
'The other main difference is aesthetic – a conservatory is usually a more traditional style with framed glass panels,' says Nelly Hall of Alitex and Marston & Langinger. 'A conservatory is a double glazed structure, usually attached to the back of the house to encourage plant life, whilst a glass extension is a solution to create more space within the home often with bi-fold doors that open up fully to the garden and can be any shape you wish.'
What are the glazing trends for 2022?
There is plenty of choice for door systems, with ultra-slim framed windows and doors being the most popular. You can choose from sliding doors, slim pivot doors, oversized sliding sash windows, the ubiquitous bi-fold doors and steel framed windows and doors.
For 2022, Biophilic design is a focus for addition projects, capitalizing on views and daylight, so frameless structural glazing is perfect for this. And as we have been spending so much time indoors in the last couple of years, floor-to-ceiling windows are popular, as are sliding glass doors that are moving walls of oversized glass.
Structural glazing is characterized by its minimal design and flexible nature but this year architects and specifiers will move towards using glass as a structural element within buildings. Glass is now a key structural element within buildings allowing residential designs to incorporate large elevations of minimally designed glazing even in curved and triple glazed panes.
As oversized glazing grows in popularity, and the temperature is rising, there is more demand for solar control and this should be taken into consideration at the start of the project. Using solar coatings on glass will protect furniture from sun damage, as well as eliminate the risk of overheating. And think about investing in blinds, for privacy and security, including integral blinds in bi-fold doors which can be operated from a smart phone to open or close them, and have the added benefit of never needing to be cleaned!
Glass is now much more thermally efficient than it used to be, with double or even triple-glazed systems, but more heat will be lost through glass than through a solid construction, so it may be necessary to add extra increased insulation levels elsewhere in your property.

Glazed walls mean it will be difficult to place furniture and everyday things like electrical sockets, which may need to be placed in the floor. If the room is to be a kitchen, the units could be placed in the center of the room looking out into the garden.

Think about the framing of your glass, do you want the glass to be part of the design such as Crittall-style glazing or non-existent doors that fold back to completely open up the space? Think about whether you want doors that fold, slide or pivot and think about the elements, if glass doors are the only access point to the garden, it might be an idea to have a single door that can be opened to access the garden in winter rather than opening the whole wall.
The Livingetc newsletter is your shortcut to the now and the next in home design. Subscribe today to receive a stunning free 200-page book of the best homes from around the world.
Alison Davidson is well-respected British interiors journalist, who has been the Homes Editor of Woman and Home magazine, and the Interiors Editor for House Beautiful. She regularly contributes to Livingetc, and many other titles, and often writes about kitchens, extensions, and decor ideas. She is the go-to for information about green energy, sustainable home improvement and eco design ideas.