Best mattress 2021 – our top picks for a (very) comfortable night's sleep
We've reviewed the best mattresses to bring you a definitive list of the most supportive foam mattresses, hybrid mattresses and pocket-sprung alternatives
Included in this guide:
1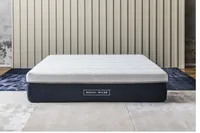 Brook
+ Wilde Ultima Mattress
2

Emma
Original Mattress
3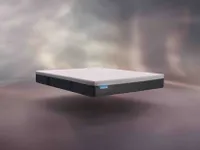 Simba
Hybrid Pro Mattress
4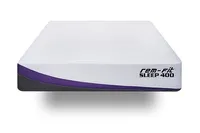 Rem-Fit
400 Hybrid Mattress
5
The
Cotswold Company Dursley Mattress (Firm)
6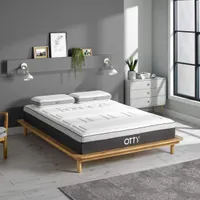 OTTY
Pure Charcoal and Bamboo mattress
7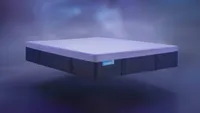 Simba
Hybrid Luxe mattress
8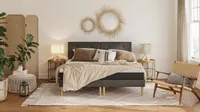 Emma
Original Hybrid mattress
9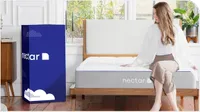 Nectar
Memory Foam Mattress
10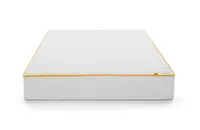 Eve
Premium Hybrid Mattress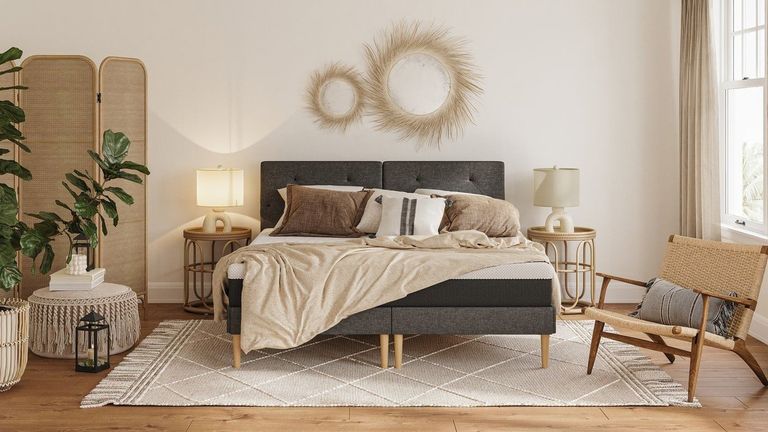 (Image credit: Emma)
Given the well-known fact that we sleep for a third of our lives, getting the best mattress to help you clock enough high-quality hours is key. However, a new mattress is a big investment – so to get the best one for your money, it's really important to figure out which one is right for you. Not sure where to start? Well, that's where we come in. We know that investing in a new mattress to suit your suit your sleep style and circumstances can be a very personal process, which is why we've personally and rigorously reviewed every mattress featured in this buyer's guide.
We've considered all mattress types – memory foam, pocket-spring and hybrid mattresses (the best of both worlds) – from a selection of price points to put together this list of the best mattresses for a range of sleepers. You'll see some recognisable brand names such as Emma, eve and The Cotswold Company, which have all been put through their paces to see if they deliver on their promises for a number of weeks – sometimes months. We've then based our reviews on how we found them in terms of comfort, support and quality, plus what they're like to move around and unwrap, as not all of them claim to be a mattress-in-a-box.
It sounds like a lot to consider but it's so worth putting in the time to find your next mattress, especially when you're going to be sleeping on it for years to come. You'll find our top choice below, but it's also worth knowing that a lot of the mattress brands now offer a trial so you can try before you buy, so to speak – which means that you could have up to one entire year until you commit to anything more long-term.
Once you've chosen the one, don't forget to pick up the best mattress protector to shield your new mattress from allergy triggers and accidental spills.
What is the best mattress to buy?
In short, the best mattress UK you can buy is the Brook + Wilde Ultima mattress. Our reviewer just couldn't fault it, although it is very heavy – but how many times will you need to move it? There were big green ticks for every aspect; arrives in a box, NO lingering smell, temperature regulating and incredibly comfortable.
We do, however, also love the Emma Original Mattress which has been a firm favourite for a couple of years – both our readers and our reviewer very highly rate it, too. Again, we couldn't fault it so it needs to be high up on your list of considerations.
If neither of those take your fancy then you'll see that we have several more alternatives to explore. Our automatic price widgets will always show you the best prices which each mattress is available to buy for, too, so no more scouting around for the best deals either.
More about the best mattress 2021 options
1. Brook + Wilde Ultima Mattress
The best mattress you can buy right now
Specifications
Size: Double–super-king
Depth: 30cm
Type: Nano and pocket springs + premium memory foam
Comfort grade: Soft, medium or firm
Reasons to buy
+Mega comfortable +Excellent quality+10 year guarantee+100 night comfort trial+Arrives in a box+Designed & manufactured in the UK
Reasons to avoid
-Really heavy-Not available in a single
Launched late last year (2020), this mattress has already stolen our hearts to claim the best mattress position.
Who will the Brook + Wilde Ultima Mattress suit?
It'll suit all sleepers since you can choose your preference of comfort feel (tensions): Soft, Medium, Firm, or Extra Firm
What is the Brook + Wilde Ultima Mattress like to sleep on?
It's lovely. We tested it in the Medium comfort feel, which was just right since we're both side sleepers. It provided plenty of support no matter where you lay or sat on the bed as the tension remained the same. And our weight was evenly distributed (especially on our sides) which was a joy to relieve us from any aches or pains endured throughout the day.
There's also no complaints in terms of temperature regulation as neither of us woke due to being too hot or cold
Special features?
The mattress is made to order which is amazing in its own right BUT if you and your partner have different comfort preferences, they can make a bespoke mattress which has different comfort feels.
Fillings?
There's 10 layers to the Ultima Mattress which combines breathable memory foam, open-cell structure memory foam, a twin blanket of 2000 nano-springs and a twin layer of 4000 large pocket springs to create a breathable, supportive sleep zone.
What do you get for your money?
A 100-night comfort trial, 10-year guarantee and free delivery. The delivery guys will help you to carry it up the stairs (even in Covid times) and the after sales team will call you after a few days to see how you're getting on with your new mattress.
Livingetc rating: 5 out of 5 stars – read our full review
2. Emma Original Mattress
This is our best mattress runner-up, which is suitable for all sleepers
Specifications
Size: Single–super-king
Depth: 25cm / 11 inches
Type: Comfort foam/memory foam
Comfort grade: Medium-firm
Reasons to buy
+Zoned support+Perfect temperature control+Good motion transfer+Arrives in a box+200 night free trial
Reasons to avoid
-None that we can think of!
Our (close) runner up for the best mattress is the Emma Original mattress. It's been a hit with our readers across the Future Homes titles and it's easy to see why...
Who will the Emma Original Mattress suit?
The Emma mattress is the best pick for those who tend to move lots in their sleep.
What is the Emma Original Mattress like to sleep on?
There's pretty much nothing we don't like about this mattress. It's easy to switch positions, and comfortable in whichever position you favour for that matter. We'd rate it towards the firmer end of medium, but it's certainly not rock solid. The mattress is evenly supportive across the entire surface, so there's plenty of room to spread out.
Special features?
The breathable, removable top cover can be washed at 60 degrees, which is going to bust dirt better than the standard 40 degrees. Handles make it easier to manoeuvre.
Fillings?
Three layers of foam. The top layer is an elastic foam called Airgocell, which brings you pressure relief. The memory foam layer is next and, like all memory foam, keeps you comfortable in any position. The base is made from Cold Foam that supports the above layers, as well as you.
What do you get for your money?
A 100-night sleep trial, no questions asked, 10-year warranty and free delivery, usually within one to three working days.
Livingetc rating: 5 out of 5 stars
3. Simba Hybrid Pro Mattress
Best hybrid mattress made from recyclable, natural materials
Specifications
Size: Single - super king
Depth: 28cm
Type: springs, foam, memory foam and wool
Comfort grade: Medium
Reasons to buy
+Good (lack of) motion transfer+Very cool nights sleep+10 year guarantee+Arrives in a box+Made in UK
Reasons to avoid
-Heavy (in the box)-Smell lingers for a few days
The Simba Hybrid Pro is (another) premium mattress, which is reflected in the price. Yes, it's towards the higher end, but I loved reviewing it so it is one I can highly recommend.
Who will the Simba Hybrid Pro mattress suit?
It's a medium tension so it'll suit side or front sleepers well since they can sink in (a little) for unrivalled comfort.
What's the Simba Hybrid Pro mattress like to sleep on?
Dreamy. After the first week or so I was fully adjusted to sleeping on this one. There was also very little motion transfer and a good balance between sinking into the mattress so your shoulders aren't too squished (when sleeping on the side), to equally being very well supported.
Special features?
One of the layers in the mattress is a wool layer which sets this mattress apart from the others in this guide. Not only is it a hybrid mattress with springs and foam but it is also naturally temperature regulating which is good news for hot sleepers.
I'm not a hot sleeper by any standards - and we tested this mattress during the winter months - but at no point did I wake up during the night overheating which can tend to happen when the central heating is on.
Fillings?
There's seven incredible layers built-in to this mattress which all work together to give you a comfy nights sleep. A point of difference with this mattress when compared to the Simba hybrid mattress is that it has a hypoallergenic cover which is super-soft, comfy and breathable but is not removable, despite there being a zip underneath the base. It also has a natural wool layer which is naturally temperature regulating and two wonderful layers of up to 5,000 25mm, individual conical pocket titanium alloy Aerocoil™ springs for better body weight distribution.
To make up the total number of layers here is also an open-cell foam layer, high definition foam with edge support and a zoned support base.
What do you get for your money?
Every Simba mattress comes with a ten year guarantee, free delivery to most addresses in the UK and free returns if you decide the mattress isn't quite right for you during the 200 night trial.
Livingetc rating: 5 out of 5 stars
4. Rem-Fit 400 Hybrid Mattress
Best mattress with edge-to-edge support for taking a combined weight of up to 40 stone
Specifications
Size: Small single - super King
Depth: 25cm
Type: Memory foam + pocket spring
Comfort grade: Medium-firm
Reasons to buy
+Mega supportive+Great motion transfer+Advanced temperature regulation+Designed and made in the UK
Reasons to avoid
-Slight lingering plastic smell, but it does go within a few days
The Rem-Fit 400 is a hybrid mattress which is both comfortable and supportive.
Who will the Rem-Fit 400 mattress suit?
This mattress would be a treat for all sleepers, whether you're a fan of memory foam or not. It will comfortably withstand a combined weigh of 40 stone, too, so if you're closer to 20 stone your sleep position will be fully supported - even if you find yourself perched on the edge of the bed during the night.
What is the Rem-Fit 400 mattress like to sleep on?
Really lovely, after the first few nights. According to the Ts & Cs at Rem-Fit they recommend that you sleep on your new mattress for a minimum of 30 nights to allow enough time for your body to fully adjust, which gives some comforting encourage to pursue (it's worth it, honest).
Our reviewer tested it throughout the summer months when there were some temperature highs and lows. The mattress didn't cause any over heating. And even if there was some restlessness, you wouldn't know it because the motion transfer is great – you wouldn't even know your companion is there (unless they steal the bed sheets from you).
Special features?
The first layer of the mattress (out of five) is the Re-AX breathable cover which encases the 25cm-deep Hybrid. It's removable and machine washable, too, which will make caring for the mattress nice and easy.
Fillings?
For a hybrid, there's nothing too out of the ordinary with this mattress. But it does use a combination of cool open-cell memory foam and 2000 premium pocket springs, plus foam encapsulated the side walls with edge-to-edge support for a very supportive base to lie on at the end of each day.
What do you get for your money?
A 100 night sleep trial with no quibbles if you're not completely satisfied; 15 year full replacement guarantee at no extra cost and free next day delivery (when you order before 1pm).
Livingetc rating: 5 out of 5 stars
5. The Cotswold Company Dursley Mattress (Firm)
Best natural mattress which has been handcrafted in Devon from the finest materials
Specifications
Size: Double–super-king
Depth: 27cm
Type: Pocket-sprung
Comfort grade: Firm
Reasons to buy
+Tension is true to word+No motion transfer+Beautifully handcrafted+Made in the UK+8 year guarantee
Reasons to avoid
-Doesn't arrive in a box-Smells after unwrapping-Not available as a single-No trial period
If you specifically want a handcrafted, natural mattress then the Cotswold Company Dursley could be the best option for you. It is a firm mattress which made for a good comparison against it's memory foam rivals during testing and I, for one, am rather fond of it.
Who will the Cotswold Company Dursley mattress suit?
Because of the firm tension, this mattress would be well suited to back sleepers as well as fidgets and sustainability advocates.
What's the Cotswold Company Dursley mattress like to sleep on?
Admittably, I'm a side sleeper and found the mattress to be true to tension. A couple of pillows to prop up the head and a cotton quilted mattress protector really helped to soften the feel of the mattress. I would even say that a mattress topper could give some extra cushioning. Yet when rolling onto my back during the night, any aches and pains were soon stretched out and it felt like lying on a cloud thanks to the pillow-top surface.
The tension is consistent across the mattress which meant that you could barely feel any movement from a restless partner. And being made from entirely natural materials - which is hard to come by - would mean that in any month of the year the mattress, and your body, will be able to breath and be naturally kept cool.
Special features?
Each mattress is unique because it has been handcrafted. It boasts some beautiful detailing such as the hand stitching which you can see everywhere across the mattress; the edges for support, the handles for easy turning and the hand tied pure wool tufts (my personal favourite).
Fillings?
There are five layers to The Dursley which includes a wonderful combination of British wool from Dartmoor, 100 per cent pure Egyptian cotton and 1200 Comfort Intelligence pocket springs.
What do you get for your money?
An eight year guarantee plus the option of free delivery.
There is no trial period with these mattresses, however, so if you aren't happy with your new mattress you are unable to return it due to hygiene reasons.
Livingetc rating: 4.5 out of 5 stars
6. OTTY Pure Charcoal and Bamboo mattress
Best mattress for sleeping through hot, restless nights
Specifications
Size: Single, double, king, super king, small double, EU double, EU king, emperor
Depth: 25cm
Type: Foam hybrid, 64% spring to 36% foam
Firmness: Medium-firm
Reasons to buy
+Pressure relief+Even support across the back+No movement transfer+Stays cool on hot nights+Hypoallergenic
Reasons to avoid
-Limited edge support-Cover needs to be dry cleaned
If you struggle with waking up hot in the night or find sleeping in the summer unbearable, then then the OTTY Pure Bamboo and Charcoal mattress could be for you.
Who will the OTTY Pure mattress suit?
This mattress stays cool even through the hot summer nights, so we highly recommend it for too-warm sleepers. It's also great if you want a mattress that's a little on the firmer side, but with a supportive top layer.
What's the OTTY Pure mattress like to sleep on?
The Pure mattress's 25cm thickness means it feels pretty study, firm and comfortable. It has a removable cover for an added layer of protection, but this is dry clean only, so do take note if this is likely to cause an inconvenience.
Our reviewer lower back pain prior to testing – enough to make getting out of bed or sitting at her desk difficult – but she noticed a significant reduction in pain when she started testing this mattress, and highly rated the support it offers. As a side sleeper she found the mattress extremely comfortable, dipping slightly at the hip but offering plenty of cushioning for joints.
Special features?
The OTTY Pure is a very breathable mattress. It had no trouble keeping our reviewer warm through April this year, but it also helped her sleep quite comfortably through the June heatwave. This is in part due to the charcoal, which claims to regulate temperature, as well as the airflow system, which keeps the mattress fresh.
Fillings?
Up to 2,000 encapsulated pocket springs, as well as two memory foam layers, compared to the Hybrid's one.
What do you get for your money?
A 100-night trial and a 10-year guarantee.
Livingetc rating: 4.5 out of 5 stars
7. Simba Hybrid Luxe mattress
Best vegan mattress – and made with plenty of sustainable materials
Specifications
Size: Single to super king
Depth: 31cm
Type: Foam, Aerocoil springs
Firmness: Medium-firm
Reasons to buy
+Supremely comfortable+Next to no motion transfer+Serious effort on sustainability+Breathable+Easy to clean
Reasons to avoid
-Not as cool as we hoped-Might be too firm for some-Deep – might be high for certain beds
As the latest and most advanced mattress from British brand Simba, the Hybrid Luxe has a reputation to live up to, and it certainly does. While it doesn't quite beat the Simba Hybrid Pro in our eyes, it's perfect for vegans thanks to its use of soft, comfortable bamboo over wool.
Who will the Simba Hybrid Luxe mattress suit?
The beauty of this mattress is that it suits everyone. If you like a firmer mattress, you'll appreciate the support the spring layers give, while foam and bamboo layers add comfort. Perfect for side, front and back sleepers alike.
What's the Simba Hybrid Luxe mattress like to sleep on?
A removable, washable top layer instantly relieves pressure on joints as you sink in the mattress. It's comfortable for front sleepers, though the top layer might not yield quite enough for some; it's more supportive and aligning for back and side sleepers. Motion transfer was barely noticeable from our reviewer's other half, and the mattress is virtually silent – impressive for three layers of springs.
The Simba Hybrid Luxe touts its amazing temperature regulation properties, but you may be disappointed if you buy it on this alone. Our reviewer occasionally woke up a bit too warm and uncomfortable, which she didn't expect based on its claims. The sleep surface does offer breathability, though, so heat does seem to dissipate quickly.
Special features?
Simba has taken steps to ensure this mattress is a sustainable choice. They have swapped wool for bamboo, removing animal products completely. Their foam is free from TCPP and other chemicals such as phosphates, parabens, biocides and organic pollutants, which are present in other brands' mattresses but aren't good for the planet – and this means a chemical-free smell, too.
Fillings?
The Simba Hybrid Luxe boasts 10 layers, all of which are free of animal products. It uses bamboo for the surface and to replace a traditional wool layer, meaning it's antibacterial, breathable, moisture wicking and fast-drying. Three Simba Pure foam layers add depth. You'll also find three layer of supportive springs, including a double later of Aerocoil springs, to ensure even higher comfort levels.
What do you get for your money?
A risk-free 200-night trial, plus a ten-year guarantee.
Livingetc rating: 4.5 out of 5 stars – read the full Simba Luxe Hybrid review
8. Emma Original Hybrid mattress
The best mattress for side sleepers – and surprisingly good for aches and pains
Specifications
Size: Single, double, king, super king
Depth: 25cm
Type: Memory foam, pocket springs
Firmness: Medium-firm
Reasons to buy
+200-night trial+Noticeable springiness+Suits all sleep positions+10-year warranty
Reasons to avoid
-'New foam' odour lingers-Limited sizes
It's a bold claim to say that a mattress suits everyone, but the Emma Original Hybrid mattress manages to live up to it. It's particularly good for side sleepers, so if that's how you prefer to snooze, this could be a great fit.
Who will the Emma Original Hybrid mattress suit?
It's a one-mattress-suits-all kind of affair, but our side-sleeping reviewer was particularly pleased with how supportive this product was for their default position – though it was also extremely comfortable for front- and back-sleeping, too.
What's the Emma Original Hybrid mattress like to sleep on?
Though the Original Hybrid features plenty of memory foam, it has the pleasant feel of a traditional pocket-sprung mattress – perfect for anyone who's not sure they're ready for a foam one just yet. It's pretty firm, which our reviewer found helped with aches and pains and supported key pressure points.
The Original Hybrid didn't quite live up to the Emma Original on motion transfer, thanks probably to the latter's all-foam construction. However, this is only really an issue if there's a big disparity between bodyweights or night-time activity.
Special features?
A new-generation aerated foam, called Airgocell, is behind the pressure relief our reviewer noticed – and it's great for breathability and cooling.
Fillings?
Alongside the top-secret Airgocell formula, this mattress also comprises of memory foam, which moulds to your body's contour; 'cold foam', which helps stabilise the springs below; the aforementioned springs, which offer targeted support; and a base foam later, which stabilises and adds height.
What do you get for your money?
An impressive 200-night sleep trial, plus a 10-year guarantee.
Livingetc rating: 4.5 out of 5 stars – read our full review
9. Nectar Memory Foam Mattress
Best mattress with the longest trial period
Specifications
Size: Twin - Cal king
Depth: 25cm / 11 inches
Type: Memory foam
Firmness: Medium-firm
Reasons to buy
+Medium-firm for firmness+Good motion transfer+Good breathability+365-night trial+Forever guarantee
Reasons to avoid
-No handles-Too hard for some side sleepers
If you are searching for a memory foam mattress which doesn't lose its firmness (even after a whole year's worth of use), then this Nectar mattress will be your perfect match!
Who will the Nectar Memory Foam Mattress suit?
It will reign supreme for those who are looking for a completely risk-free experience that includes a decent memory foam mattress and is available at a fair price.
What's the Nectar Memory Foam Mattress like to sleep on?
Thanks to its memory foam filling, the Nectar Mattress will make your joints feel cushioned from night one. With regards to motion transfer, the Nectar is as good as any memory foam — and if sliding into your other half during the night is a massive bug-bear? Then, this mattress is the best find for you.
On the firmness front, Nectar is rated 6.5 on the website, which the company claims is "just right." Users will find this option is not too soft, not too firm, and after all, what could be better than that? No one wants a mattress that is too firm, trust us.
Special features?
It has an Adaptive Cooling Cover designed to draw away heat from your body and circulate fresh air every time you move.
Fillings?
There's nothing especially unusual about the Nectar's construction but, as mentioned, it is reassuringly heavy, which is always a sign of quality. It features a decent layer of proper memory foam which is nicely aerated, and then pressure-relieving foam that contours to your body shape. Finally, the seven-zone base foam provides additional contoured support plus depth.
What do you get for your money?
An unprecedented 365-night trial period. Plus free delivery and free returns.
Livingetc rating: 4.5 out of 5 stars
10. Eve Premium Hybrid Mattress
Best premium hybrid mattress - and it comes with a washable antibacterial, anti fungal and anti microbial top cover
Specifications
Size: Double - super king
Depth: 28cm
Type: springs, foam and memory foam
Comfort grade: Firm
Reasons to buy
+Next generation pressure relief+Low-risk 100-night trial +Easy to clean with antibacterial properties built-in+Decent thickness+Seriously impressive support
Reasons to avoid
-Lingering chemical smell-No single or EU size options
Next up on our best mattress list to claim third position is the eve Premium Hybrid mattress which, like the Emma, provides impressive support and is of a very decent thickness indeed. It's just much pricier, especially at full price...
Who will the eve Premium Hybrid mattress suit?
It's a good choice for those who like/need firm support – particularly if you have a bad back or achy hips.
What's the eve Premium Hybrid mattress like to sleep on?
This is one of the deepest mattresses in our guide, which was the very first thing we noticed about it and is good for hoisting yourself out of bed every morning. It's FIRM so this may take a bit of adjusting if your last mattress was any softer.
You'll barely notice that your sleeping companion is there. And as for sinking into the mattress, you can except the same level of support across the entire surface.
Special features?
The top cover can be zipped off for washing, which is a super useful feature that not all the mattresses come with. It's even antibacterial and antimicrobial, which is (always) reassuring.
Fillings?
There are four layers to this one which are all about the foam, including the new Floatfoam layer, before you hit springs. There are 1,500 of these individually wrapped, and more importantly, targeted to all those pressure points. The base is also non-slip at the bottom, too, to keep it all neatly in place.
What do you get for your money?
A 10 year guarantee; free returns after 100 days and excellent, speedy delivery.
Livingetc rating: 4.5 out of 5 stars


How often should I change my mattress?
According to the National Bed Federation (and The Sleep Charity), it is recommended that you replace your mattress every seven to eight years. It's likely that your mattress has become worn out long before you even realise it which is why this time frame is so important to bare in mind.
Remember, a mattress protector – or a mattress topper – would be a good idea to keep your mattress feeling (and looking) like new so at the point of buying a new mattress, slip one of these on.
How to choose a mattress?
Ultimately it depends on the level of support you need, the space you have and your budget. The type of mattress – foam, pocket-sprung or hybrid – and materials used can also come into play at the point of choosing a mattress, based on your experience.
If you already have a bed frame then you'll just need to get the same size mattress to fit it. This will work in the same way if you want to upgrade from a double to a king. A number of high street stores and brands sell mattresses and bedframes so to make life a little easier, it might be best to buy these at the same time. This was you can ensure that you can the correct bed frame and bed base to support the mattress adequately.
Have a little think about how you sleep, too. Are you a side, back or front sleeper? Do you struggle to regulate your temperature during the night? This can all affect the type of mattress you opt for. If you're unsure, then do take advantage of the trials which brands are offering. These range from 100 to 365 nights which is plenty enough time to find the best mattress for you (and your partner) for free.
Jennifer is our Appliances Editor here at Livingetc. During the working days you'll find her scouting out the best deals on applainces (big & small) and mattresses, and reviewing them to ensure that you are getting the best in-class. When she is not doing this, Jennifer can be found shopping for herself (and husband) as she tends to the kitting out of her Victorian home or sitting in the garden with a mug of decaf, loose leaf tea.