The "5 second rule" is the decluttering technique that will finally help you overcome your decision paralysis
Is five seconds really all we need to make a decision on what stays and what goes? We hear from the experts how to streamline and declutter your home using this quickfire rule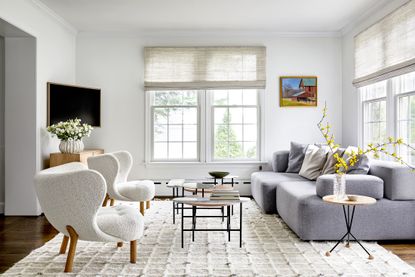 (Image credit: Stacy Zarin Goldberg. Design: Hendrick Interior)
We all have moments where things get on top of us and we feel like we need to refresh our surroundings. Decluttering can be a quick, and sometimes brutal, method to itch that scratch but it does change things up a bit, and prevents items from accumulating in your living space.
There's a decluttering trick that's just as quick as it sounds called the five second rule - but what is it? The five second rule is picking up an item, and making the decision as to whether it stays or goes within this amount of time. 'The basic premise behind this rule in decluttering is that you should know within five seconds whether you should keep something or not,' explains Amanda Wiss, Founder of Urban Clarity. 'When purging items, do a five second countdown while asking yourself if you really need this item or if it can be donated/sold/thrown away. The act of counting down has a strong psychological effect and actually helps propel people into taking action!'
The countdown is a powerful tool 5,4,3,2,1, stop! It's long enough to give you a moment of consideration and short enough to prevent analysis paralysis. Here's how to declutter your home with it.
1. Be honest with yourself
There isn't any time for overthinking, and if you haven't used or thought about the item in a long time, chances are it's not got a justified place or purpose and therefore isn't adding value to your space. In this case, it's time to let go. 'If you find yourself questioning an item, it usually means it can go! If it's not a true "yes" right away, there's usually no reason to keep something that isn't an absolute want or need,' encourages Jamie Hord, founder of Horderly Professional Organizing.
2. Start small
So, where's the best place to start to organize a room with too much stuff? 'I employ this rule in small spaces first, starting in the family "junk" drawer, a sock drawer, or front hall closet,' Amanda Wiss tells us. 'Once you see how satisfying it is to organize and optimize a small space, it becomes, dare I say, exciting to think of the next organizing project.'
Starting small helps avoid the feeling of being overwhelmed, gradually you can chip away at the bigger spaces. 'And remember, it's okay to use the Five Second Rule to begin the decluttering process, even if you're not ready to give things away yet. Use the strategy to sort between "keep" and "maybe" piles,' Amanda adds. 'I often find with clients that when we have a pile of "maybes" at the end of the first session, they become "throw-aways" by the second session.' Sometimes all we need is to separate items out to begin to understand how little we actually use them.
3. Take one step at a time
Try not to overwhelm yourself when setting your decluttering checklist. Angela Agranoff, owner of The Unclutter Angel, encourages a step-by-step process.
1. Hold up the item.
2. Look at it for a couple of seconds.
3. Start the countdown and make a decision about the item using the four-box method as a template: 1.Keep. 2. Donate. 3. Trash. 4. Unsure (if you need more than five seconds to decide).
'This guideline and decision box method can help make quicker progress when decluttering, whether in one big project or daily decluttering around the home,' Angela says. This four box method is a helpful one to have readily available anytime so the progress can continue at any time. 'The five-second rule helps to make quick decisions, stay focused, and is an efficient approach to decluttering a home,' Angela adds.
Of course, it's not always that simple and you may need to make allowances when it comes to sentimental items, but this hasty rule can be a positive technique for certain household items resulting in an immediate effect, and you may find a pile of unused items quickly mounts up, leaving you feeling highly productive.
The Livingetc newsletter is your shortcut to the now and the next in home design. Subscribe today to receive a stunning free 200-page book of the best homes from around the world.
Portia Carroll is an interior stylist, writer, and design consultant. With a background in interior architecture and design, she has a plethora of creative experience in the industry working with high end interior brands to capture beautiful spaces and products and enhance their qualities.