How to host an effortless dinner party
Promotional feature with LG SIGNATURE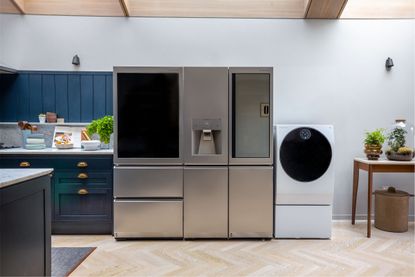 (Image credit: LG SIGNATURE)
Let's face it, overly formal dinner parties lost their allure long ago. These days, simply hanging out in a kitchen where delicious foodie scents from the oven float over relaxed chatter and laughter, and the host is as chilled as the guests, is bliss.
There's just no need for the stress of nerve-jangling fancy courses. Think relaxed platters, conviviality and the knowledge that sharing food breaks the ice.
Together with LG SIGNATURE (opens in new tab), we have an easy guide to being the host with the most.
Effortless entertaining
Drinks should be generous, free-flowing and never run dry. Point guests towards the premium LG SIGNATURE wine cellar and two knocks on the glass touch display illuminates the inside.
Red, white and sparkling wines are each stored at their optimal temperatures and the cabinet monitors humidity and minimises vibration to protect the flavours.
With an automated door opening feature and smart technology for voice-activated commands it couldn't be easier to use.
Help yourself
Take the pressure off by serving platters of food that can be prepared in advance and passed around the table. To be certain ingredients are kept at peak freshness, the LG SIGNATURE InstaView Door-in-Door refrigerator includes an intelligent air filter that removes up to 99.9% of bacteria.
Everything stays cool when you check on the fridge contents via the two-way mirrored glass without opening the door. You can even use your smart phone to monitor and control the refrigerator with ease.
Cutting-edge tech
The LG SIGNATURE range of home appliances are all designed to bring style to your home (and the party). And when the party is over, backed up by the latest tech, they make those everyday tasks – such as doing the washing – a breeze. The TwinWash washing machine is a game changer for families, washing two loads simultaneously and quietly.
The larger top drum takes a family-sized main load, while the mini washer is perfect for delicates and baby items. With premium appliances from the LG SIGNATURE range, everything's taken care of.
Visit lgsignature.com (opens in new tab) to find out more about the range