Sponsored
How to maximise your outdoor space
Introducing Kärcher's range of Wet & Dry vacuum cleaners, designed to make cleaning in and around the home a joy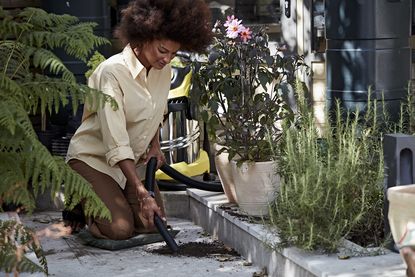 (Image credit: Future/Rachael Smith )
Whether your garden is cosy and compact, or a sprawling space, Kärcher's Wet & Dry vacuum cleaners make the prospect of cleaning and maintenance feel almost effortless.
And when it comes to tough autumn jobs, the Kärcher WD range is exactly what you need to take on the tasks your indoor vacuum would normally struggle with.
The WD 5 is one of Kärcher's most powerful Wet and Dry vacuum cleaners. It switches between wet and dry pick up seamlessly too, meaning you can tackle anything from water leaks to garden debris and pick up every bit of clutter.
If you want to maximise your time outdoors this autumn, and make the most of any late sun, then a tidy and organised space will certainly help.
So here's how to bring back that WOW factor and really impress any guests who pop over too.
Clean up storage spaces and pack items away
Before you begin, a bit of pre-planning will make sure that you are not merely cramming items in and hoping the door will still magically close with everything jammed inside.
Instead, clearing out and then cleaning the storage space before you use it will give you peace of mind that items are being stowed away neatly and safely over the winter.
For storage cupboards, sheds and garages, we would suggest giving surfaces a thorough clean with the Kärcher WD 5, making sure that you also remove any low or high-level cobwebs or dirt. At the same time, you can use Kärcher's WD 5 to remove any dirt or cobwebs that might be attached to storage covers you are intending to use.
Sports equipment, outdoor clothing and bikes can be cleaned too, and take care to suck up any clumps of mud that have fallen off boots and wheels!
Get into every corner and bring back the WOW
While furniture and lighting have been outdoors and in use, they may have picked up dirt, dust, or cobwebs. Use the powerful blower function on Kärcher's WD 5 to make sure that before you put anything into storage it is as clean and free of debris as can be.
In particular, this might be furniture or accessories with a wooden or metal frame - items that have joints or angles can easily incur dirt and dust ingress. However, with the Kärcher WD 5 you can use the range of handy attachments to clean even the smallest of these nooks and corners.
Remember to consider the option of giving these items an additional layer of protection whilst they are being stowed, such as a tailor made cover, a protective sheet or layer of fabric.
Banish garden debris from lawns, patios, balconies and borders
Whatever the size or aesthetic of your outdoor space, whether it be a small balcony or an expanse of lawn, you can employ the Kärcher WD 5 to smarten up its appearance, before the harsher weather sets in.
Try using the effective Kärcher Wet & Dry vacuum cleaner on any patio or balcony floors to allow them to sparkle for those final alfresco drinks and suppers you might be able to squeeze in before it gets colder.
Additionally, use the Kärcher Wet & Dry vacuum cleaner to tackle any garden clippings after giving plants a tidy up with your secateurs. And pick up soil from knocked over plant pots with ease.
Be sure to maximise your outdoor space this season with the Kärcher Wet & Dry vacuum cleaner – and give it the chance to truly shine for longer.