Sponsored
These are the two worktop materials you need to know about before buying for your kitchen
Quartz and Porcelain are fast becoming the most popular materials for worktops. Caesarstone tells us why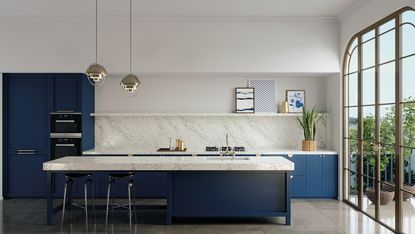 (Image credit: Caesarstone)
You don't buy new kitchen worktops very often - that's why when it comes to do so, the options can be overwhelming to get to grips with. But, whether you're renovating a home entirely or just installing a new kitchen, before you get dazzled by the range of colours and styles available, knowing the type of material you're looking for can really help narrow down your choices.
You might be familiar with laminates, wood and natural stone surfaces, but there are two materials that should also be on your browsing list. Quartz and Porcelain worktops are two of the most popular choices people make for a modern, durable kitchen. These surfaces are a specialism of brands like Caesarstone (opens in new tab), which is known for manufacturing high quality and beautiful worktops. Having manufactured worktops since 1987, their design heritage and countertop expertise is evident in their beautiful designs and product performance. Caesarstone prides itself on rigorously testing the functionality and durability of their worktops, which goes a long way in ensuring you're making the right decision.
Quartz worktops you may also already know, as it's been a popular alternative to natural stone for some time thanks to its hardier characteristics that make it suited for the wear and tear of a modern home. Porcelain is a newer player in the game, but with qualities matching Quartz in terms of durability and the range of styles available, it's one to look out for when renovating your kitchen.
How do they compare to natural stone worktops?
You might have long admired 'marble' worktops in a friend's kitchen, but are you sure that's what they really are? While marble is still a popular choice, many people are turning towards the likes of Quartz and Porcelain worktops for their more durable qualities. They're not only non-porous and more hygienic, but they don't need to be sealed, where marble requires regular maintenance.
These worktops also come in a vast range of designs, meaning you can get the look of that ever-popular Carrara marble worktop, to name just one of many styles, without sacrificing a practical kitchen. In addition to the natural stone inspired designs Caesarstone has over 80 different surfaces, from the earthy tones of the Pebble Collection (opens in new tab) to the urban-inspired Metropolitan Range (opens in new tab) delivering on concrete-style worktops, these surfaces are a one-stop shop no matter your kitchen style.
You might question the sustainability of these materials versus natural stone, however, Caesarstone's recent environmental report evidences the sustainability practices involved in bringing their products to life, as well as their focus on ethical production that seeks to care for the communities and people in the supply chain.
How do you buy Quartz and Porcelain worktops?
The process of buying natural stone requires you to be very hands on, but you can rest assured that with Quartz and Porcelain worktops, you're working with professionals who can help streamline the process.
Find a stone fabricator (opens in new tab) working with a trusted brand, such as Caesarstone, and you know that the process of buying worktops is going to be simplified and stress-free. Caesarstone, for example, offers a lifetime warranty (opens in new tab) that you can register after you've sourced your worktops from an independent fabricator.
Plus, the Caesarstone website is full of useful design tools and ideas to make your vision for your kitchen come to life.