For stylish and sustainable surfaces, you'll want to know about this new engineered ceramic
SapienStone is leading the way with engineered ceramic surfaces that are durable, naturally beautiful, and sustainable too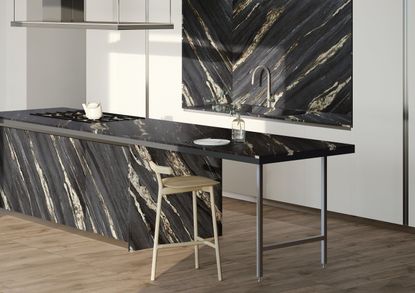 (Image credit: SapienStone)
The Livingetc Newsletter
For style leaders and design lovers.
Thank you for signing up to LivingEtc. You will receive a verification email shortly.
There was a problem. Please refresh the page and try again.
When it comes to kitchen or bathroom surfaces, getting your countertops right is vital. These functional areas of the home see a lot and, as such, the surfaces within them need to be stain resistant, waterproof, and able to withstand heat - all on top of being aesthetically beautiful, too. Well, SapienStone's new ceramic slabs promise just that, as well as being good for the planet.
In recent years, there's been a growing appreciation for porcelain for the likes of kitchen and bathroom countertops, with its qualities matching quartz and marble in terms of durability. It doesn't sacrifice on style either, with styles ranging from calacatta effect to terrazzo. But, after some research into the engineering of this versatile stone, Iris Ceramica Group - the parent company of SapienStone - has given us one more reason to favor the material.
Their new technology makes a leap forward in re-engineering ceramics, taking porcelain stoneware to a whole new dimension - quite literally. Just like natural processes, 4D ceramics is born through stratification and becomes granitic, resulting in a surface that's as solid as rock and made up of natural minerals, all of which are encompassed in a 12- and 20-mm thick panel. It's certainly one to consider if you're renovating your kitchen or bathroom this year.
How does it compare to other countertop materials?
The battle between natural versus engineered stone is one that will never be up, but this new material has the best of both. It has the reinforced durability of engineered materials but with the visual depth and unique beauty of a natural stone.
One of the biggest advantages is that the ceramic surface looks exactly the same throughout, on both the surface and its thickness. This is achieved by recreating natural veining, shades of color, geometric designs, or patterns, thus completely blurring the boundary between a surface and its edge.
From a practical point of view, it's easy to clean, resistant to temperature changes, immune to scratches, and isn't affected by acidic or corrosive products used for regular maintenance or cooking. It also doesn't change color when exposed to UV light and is stain resistant too, making it the perfect hard-wearing choice for high-traffic areas.
Large format slabs also make it easier to get the ideal measurements for tables or kitchen islands without having to disguise seams, offering a more modern, monolithic appearance to your worktops.
New perspectives for interior design projects
With the technical stuff out of the way, that leaves room for the fun part - harnessing 4D ceramic's creative power. With these innovations, Iris Ceramica Group has pioneered a new way of narrating interior design, which allows it to perfectly illustrate the expressive potential of the new dimension of ceramic surfaces.
In short, 4D Ceramics opens up new aesthetic potential, offering new perspectives when it comes to using and manufacturing countertops. The 4D Ceramic slab becomes part of a new architectural language, and the beauty and complexity of the material is reflected in its thickness.
This is translated into tangible solutions that inspire architects and interior designers to create fresh furniture ideas, from tables and worktops to shelves and furnishing accessories. It's this that makes SapienStone Iris Ceramica Group's ambassador of technological innovation.
Research into aesthetics and experimenting with the expressive power of matter is what makes the SapienStone range of products truly one of a kind, giving shape to furnishing solutions that combine aesthetics, functionality, and emotion.
For style leaders and design lovers.