Little Greene's latest wallpaper collection is the perfect way to introduce period charm into your home
Say hello to Little Greene's National Trust Papers III, launching on the 23rd of January, inspired by historic wallpaper designs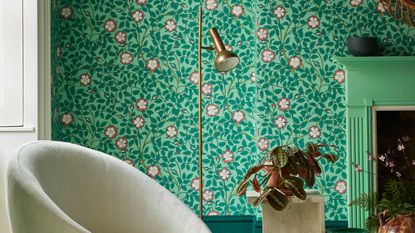 (Image credit: Little Greene )
If you haven't come across one of Little Greene's collaborations with The National Trust before, it's a partnership that has already yielded beautiful results. Working with The National Trust gives Little Greene the opportunity to breathe fresh life into paint colours and wallcoverings found throughout their historic houses, bringing them into the 21st century as a way to bring authentic period charm to our own homes.
Their collaboration has seen various paint and wallpaper collections come to fruition already, and Little Greene are now adding to its range of wallcoverings with the launch of National Trust Papers III (opens in new tab).
Launching on January 23rd at Paris Deco Off, the latest collection features eight designs from National Trust properties Oxburgh Hall and Felbrigg Hall in Norfolk and Newark Park in Gloucestershire, as well as one from the Little Greene archive, adapted and recoloured for modern interior schemes. Here are just a few of our favourites.
Bird & Bluebell
One of two murals in the collection, Bird & Bluebell combines British flora and fauna, from birds and butterflies to bluebells. Pictured here in Pea Green, Little Greene have styled with a beautiful accent ceiling in Dorchester Pink® 213, which gives this room a modern twist, in spite of the traditional-style illustrations on the design.
Poppy Trail
This pretty wallpaper features large, ornate poppy flowers and heads. Despite its large scale, it's a wallpaper that still feels like it can act as a background texture to your space, thanks to its monochromatic colour palette. Pictured here in the soft, warm tones of Masquerade, we love the unexpected contrast to the wainscoting painted in Yellow-Pink 46.
Briar Rose
This kitchen design goes to show how a traditional pattern can be used to add interest and character to a modern space. In the Green Stone colourway, the wallpaper has been matched to the walls and kitchen island, Green Stone - Pale 268 and Green Stone - Light 269, respectively, for a cohesive scheme that's set off with touches of pure black and vibrant red.
Lovers' Toile
A toile is such a brilliant pattern to introduce to a room - it provides a focal point that you can get lost in for an age, noticing different details every time you spend time in it. This pretty, soft and delicate pattern has been given a contemporary edge in this bedroom with a dark green and white colour palette called Puck, matched to the ceiling, door and trim for a fresh take that honours the traditional style of this pattern.
To discover more of this collection, shop the National Trust Papers III (opens in new tab) on the Little Greene website now.